What is Clean Space:
Clean Space is a durable 20Mil poly-reinforced crawl space liner that turns any crawlspace into a bright eye-catching usable space. The clean space system is designed to prevent humidity and water vapour from entering your crawl space. In turn, by keeping your crawl space dry, you will be protecting your structural and eliminating chances of mildew, mold and rot.
(image 1)
Benefits of Clean Space:
By sealing your crawl space, you will be keeping the cold winter air away from your furnace, water heater and other utilities, along with keeping the hot summer heat out of your home. Along with weather proofing this space, the clean space system also acts as a deterrent to any termites, cockroaches, ants, mice and rats that may try to find a way into your crawlspace.
Additionally, on top of eliminating moisture, water vapour along with unwanted insects, from encapsulating your crawl space, you will also keep away odors and allergenic mold spores that would otherwise rise up into your house. Clean space has also been proven to act as a passive radon mitigation system.
Clean Space Checklist:
Reduces moisture & Humidity
Controls mold & rot
Helps eliminate cold winter drafts
20mil thick, 7-layer polyethylene composition, with polyester cord reinforcement
Seals out odors
Keeps away insects/rodents
Passive radon mitigation
Saves money on utilities
Increases home value
Creates additional storage space
(Image 2)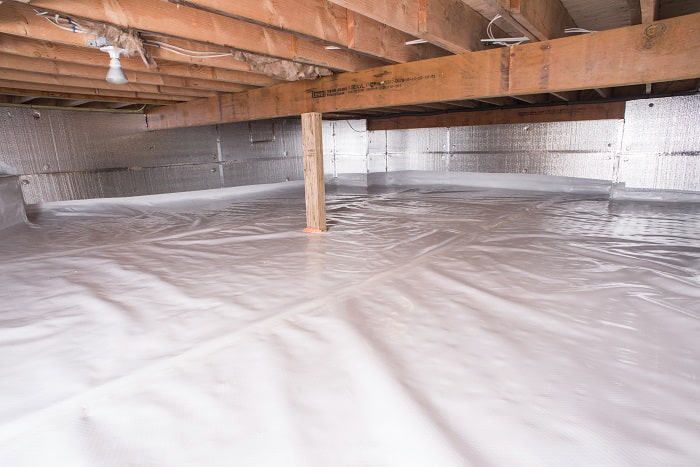 Improving home comfort & energy efficiency:
Having an unfinished crawlspace is more than an eyesore and wasted space. An unproperly finished basement may cause health, safety, and possible home resale problems. All of these problems arise due to a damp/wet and dirty conditions that aid in creating mold, mildew, wood rotting along with unwanted pests being present.
The clean space system is right solution for any crawl space needs. Transforming your ugly, dirty, cold and unusable space into a clean, dry, attractive and energy efficient space by using the clean space encapsulation system.
For additional information regarding Clean Space please CLICK HERE
Call us today to schedule an appointment to see if our CleanSpace system is the perfect solution for your CrawlSpace needs.