Crawl Space Repair & Encapsulation in Fredericton, Halifax, Moncton, and nearby in Nova Scotia & New Brunswick
Vapor barriers, support jacks and other products for a dry, healthier space
What you probably don't realize is that the condition of your crawl space can have a big impact on your home's health. Whether there is mold, structural issues or rotting, these crawl space problems can affect other parts of your home and even health and safety of your family.
At Ridgeback Basement Systems, we specialize in repairing crawl space problems of all types. Our certified crawl space specialists can handle fix even the dampest of crawl spaces. As a locally-owned and operated crawl space repair company and member of the Basement Systems international network of waterproofing contractors, we are able to provide our customers with industry-leading products, like crawl space encapsulation, structural repair and more, as well as personalized service to get the job done quickly and effectively!
Symptoms of a Crawl Space Problem
Drywall Cracks in the Interior
Uneven Floors
Foul Odors in the Home
Heightened Allergies or Asthma Symptoms
We can transform your crawl space from that damp, nasty space under your home that you would rather just avoid, into a clean, healthy below-grade structure. Our experts will inspect your crawl space and offer the best materials and solutions to fix the problem. We offer a wide range of services and products, including moisture barrier installation, crawl space dehumidifiers, thermal insulation, crawl space structural repair and waterproofing.
Crawl Space Repair: Before and After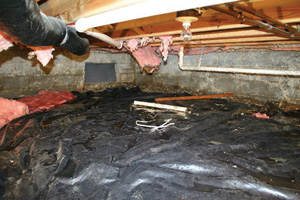 Moisture, mold and falling, failing insulation are problems in this crawl space, which hasn't been properly sealed.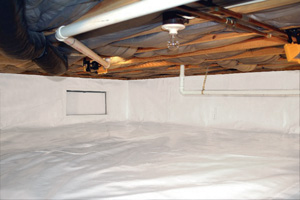 The encapsulation treatment totally separates and protects the crawl space interior from outdoor conditions, keeping the space clean and dry.
Certified Crawl Space Repair Contractors in Nova Scotia & New Brunswick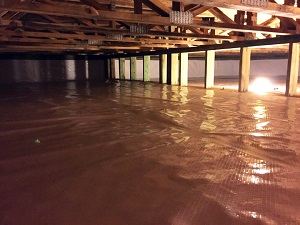 All-size solutions. The CleanSpace® Crawl Space Encapsulation System can provide moisture control for any size crawl space.
You are probably asking yourself, "can't I just ignore my crawl space problems since I never go under there any way?" Crawl space repair will help you avoid unnecessary repairs, create a healthier living space, and save money on your utility bills. And once you've encapsulated your crawl space with a vapor barrier, you've gained valuable storage space in your home.
As a member of the CleanSpace® network, a division of Basement Systems®, we use industry-leading products that have proven to be effective in turning a damp, moldy crawl space into a dry, useable space that will no longer have a negative impact on the rest of your home.
Meet with one of our crawl space specialists to learn more about all of our crawl space services, including vapor barrier installation, crawl space support jacks and more in Moncton, Halifax, Fredericton, Truro, Charlottetown, Dartmouth, Sydney, Summerside, Glace Bay, Dieppe and nearby!
Schedule a free crawl space repair estimate in Nova Scotia, New Brunswick & Prince Edward Island.
Looking for a price? Get a no cost, no obligation free estimate.