The Power brace is a zinc-plated steel beam that will immediately stabilize your bowed/sagging wall. The unique design allows for our experienced crew to tighten the braces over time to potentially reverse any wall failure. The power brace system can be installed without any invasive drilling and or digging on the property.
The experienced team here at Ridgeback Basement Systems will provide a custom-fit solution. The zinc-based steal will help to ensure the beam will never rust while maintained a clean look. The Power brace will fit tight against your basement wall with brackets anchored to your basement floor and floor joist. Restoring your property value while you enjoy a piece of mind instantly.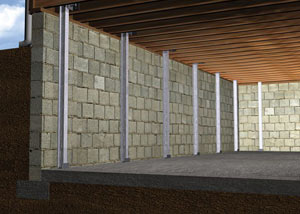 How your walls get this wall:
There are plenty of factors on why your foundation walls may need some attention, such as forces of nature. Moisture and frost have been recognized as a frequent issue that causes movement of the soil near your foundation walls. The soil will continually expand into the wall causing pressure, cracking, bowing and tipping of your foundation walls.
<img src="data:image/png;base64,iVBORw0KGgoAAAANSUhEUgAAAc4AAAEzCAYAAAC46uN3AAAgAElEQVR4Aay9VXNcabau23/lXJwdZ6/oRd1d0F3dq8BlkGwxM5NtMTNZkiXZkkHMzMzMDClmBrNli1IJvnhPjDEzZdlVfWKvffbFE9+cOWfKFe4IP/2OMb5Pf5DMp4K4mEvhVXkvXUgDQfd8vZgOqQLl++LZZEhn036Xi7k0EJL5dIGFdMiWMiFbzhJYyoaMyYVsKRfS5S+RLOfhYikXF8sFjGSlCNLVYkjWBC5Wi0BI1ioF1sshWS+HdKPiS7ZqIGVqIdtqgHS7AbLtZgWtkG63Q77bCdlOFy42O3C+3gbxehdzttKD840+nK334WxtQGBjGOebIzjbGGbO94Yh3h+B5HBM4GAYF/tDkOz34WKvB5LdLkh2OyDdbYVstwXSnUZItmpxsVGF87UKiNcKFeRBvJYL8WoGzlfSIF5JYSSr6ThbSMHZfCbO5nPwbiITr0Yy8GIwC7s9aSgOM4KP9h+xWh8H2XojFqsi0RBnjWyvW5gu8MXxcDrORjNxMZbGSMZSQYiHk3A68BRnAwk47X+Mk544nPfGQtwXC3H3A5y0BeNjgw+Om3xw3OCJ43o3fKxzxVH1XbyrcsLbSnu8qbDD+3I7vCuzxdtiaxyV2eG89j7zscIRR2VOeFVggxe5VjjIt8XHand8rPXAUZU7NrNtsJNnj3eVLjip98J5kxfO6t1xUucqUO2M92WOeFfqiFcFdniRZ4MXeXY4zLXFfrY1drKtsJtjzezn2eJlvj1eFzriTdHdS14XOuFFrgNzmGOPg2w7HGba4iDjM/vpNiD20qywm2qFnRTL37CVZI6NZ6ZYf2qC1UQjrCQYYjFeD/OxOpiN0cVMtA5EUVrMTIwOZmP1MBunw0zEaIAYUzAao46RaDUMRt1hBiLuoD9cFf3hdzAQoYahCHVmIEwN/SHqaPX6FdVOP6DA7D+RrvsvSNL4v5Gm8z9RZvtXtHupYDhCF0PhOugNUkeHryra/FTQEXAb7YFqaPW/jWb/22gJuINmfzU0+t5m6LrJ7w4afFRR630LNV43UeV+A5Vu13mt81ZBc6Am2kN10Ramj8YALVR7q6HCQxVVnmqo9dFErZ8Wanw1UaWg0kcDV6nw0QRR6auFcm8NlHppMmXeWij30UaFrw5T6aePch9dlProoMRbGwWeGsh1u4Ncl9socLmDIjd1FLmqo9hNHSVuGih200CJuyaKPTRR4qmFUi8dpsRbB6X8c3RR5KmFAg+BfHdtEDluWky2qyayXDSQ5UKrJnJdtJB9XwOZ9+4gzVEFqQ63eE13uoWMuypM5j1VZN2/zWQ7q+Mqz+1u4JntdTy1vYZE65+RaPEjHpv9A/FGf0OswfeI1v8WD3T/gjDtvyBM688IVhCo/WcQQTrfMsG634EI1fkOIdrfIljrGwGNvyBQ7U8I0fgWoZrfIUT9GyZY7S/wV/kPBKr8GyI0v0WU5vcIUfkTIu58jyRzVRS5GKDcyxS1wTaoCbNGdZgtqsLtUBnuiMqw+ygOcEKulx2SvByR5HkXTzwckOh+F899XfHcxw0Jni5MnLsLIu86IMrJAfEu9xHvchcxTnaItDFHmJUJYu0s4aWjDhet28h9+AAT7U2YH+7HimgSi9PjzPz4CObHhzA/OoCx3i4MdbZhuLsTo73dmBoagGhkCHMTo5gZG8bIQC/6utrR19mJwZ4eTI2OYn56Givz87yO9PdjuK8PC1NT2Fpexvr8AraWlpnNxSW+X52dw8LkFEQjo1iZmQXdE/R8f32D2Vtbx+HmFg7WNr5A+Xx/YwPEroKdzQ0Q21sCfxBESXIjgQqrdCFDkOXVlaWZyfKk90i04tnU35UmyVQpTnqHBXpVnJfSJHl+FqdsJQ/Mcj6kK/mQKKR5sVwIEiehFObntRwXq+W4WCtjSJ5KpOuVkGxWQ7JZw0g36yHZaoR0qxnSrRZGstXG0iRxSre7INnsgnSrF9Ktfkg3ByDZHoJkawQXm8OQbI1BsjN+ycW2IEvpi3HIXk4IvBiF9HAE0sMByA77Id3rhnSvE7Lddsj22iDbbYJspx6S7RqWp2S9BJKNYkg2CiHZKIBkPQcXaxm4WE1nSJySlSxIlnNxsZSPs/lCnM4V42SmDEeTRWh+4ogY679jMNcXG02PUfnAFPn+GqiPNcdyVRjOx7MhmSQEeYpHU1icF6MpLE/x8FOcDybibOAxzgficUH0RuOsIxTHLf44afbFaZM3Ths9FPK8z/J8X+2Id1UOgjRLbfCmyArvSmzwscIBH8odcFRG6128KrDFq0JbvCyyx1GlK16X3cOLIiesZVhiN98BH2rccdrgjfMGj9+I86jcCe9KHfC6yA4v8wU5kjwPcmxYmHu5wvqlOJ1YnCTNr8W5nyUIUylLpTCvSnM72QJXIWFuPje7hO5JnkpxzseSQK8Qr4v5eF2W5kycNqZitTD5UBMTsZoYf6iJ0YcaIHkOx6hjKFoNQw/UMBgpSPOqOIciNED0Bt1Bm/cN1N3/L5TZfo8iiz+j2Oob1Dv/jC7fOxiJ1GNx9odoojvgDroC7qA7WB1dIZroCFJHa6Aa2nhVR0uAQGugsJI8631VUeejglqvW6j2uMHQdYOfGsuzKUgbDQGaqPVVR62vBlPnq8XirPPTRrWfFqMUqHIlYSohgZIwSZ60fpamLn5PnHmuCnG6qrE0SZwkTcZdk8VJ0vxanGW+eizP3xNnrkKeJE5Bnr8VZ7qTKkuTBKoUJ0nzf1WcT61+xhPLn34jzii9bxCu8w2LM1T7LwjR/guCdJR8y8L8WpwkzxDNb5gg9T+zOMO0vueV5Eni9Lv17yzO4Nv/iVC1vyBa629INL6GbAdtlHuaoTbAGlWBlqgMtkBFqDXKQ21QHmqP0iBH5PvaIcfDBs89HZDs7YRnnoQgzieezohzvYtYFyeEOdjioet9xNxzQoS9LaKd7BBhY4kAEz0m1FQfiS5OyH0QivqMFAw21WBxdBCrM1OYHR/GkmgCcxMjmB0dwOxwHyb6ezDe143x/l4WJ0lzdmwE85NjLM/x4QEM9naxNEcHBjA7OcnSXF9awtLsLCZHRlicU8P0s0UsQxInSZHkuDQtYmnOjo1jamiYP1ubmwfxtTgPNja/kCZJ9L8hTpJlhkKaJEwiU1gXsz6viyTNLEhpXchkGYpZkCTRf875bBrE9Hw+g78vWcqCdDlbQS6kS3kCK4IsZasFkK1SuhQQEmchxCuFOF8uxvnKZ8SrJThfLod4pUKQ52o5zlbLhSSnkObFVjUuNmsYydbvibODxSnf7YZ8twfS3V7I9wch3x+BfH8U8v0xyPcnFEzh08E05Pszn3k1hU+vPyN/NQ75yzHIXw7h08tBfDrsg/ygG5/2O/HpoAOfDloh322GfJfSbx3k21UCO+WQb5dAvlUA+VY+5Js5kG1kQ7qexfeyjULI1oohW6+EfLMOsrU6yFbqsNoch8qH5qh7bIP8IB14avwPPHe+hpXaSBwNpuB8IhNSUS6kohxIJjJwQYlzIh2SiTRcjCZDMpaEi5FnEA8nQjz0GBfEwEOcd4fjrD0I523+OG/xxXmzF86aPXHa6Irjemd8qL3HAv1Q6cCp822pDUv0fSklP2uGEudxlTPzocoF7ytcsF9gh81sayylmnHiPGv0AVPvzuI8rXfDSR195y4+VNzl1Pm2xAGvC+05eZJAD3NtcJBjzezmWGE/z4bFKiROEidJ05F5mWfPiZPS5l4mpUtrTpckS0GYlthNpZRJwjTHVpLZb6Bn9A5Bz9efGmMlwQBLj/Sw9Ej/kuXHBlhONMBSgj4WE/WxkKAL0SMtiOK1MRWvjck4LUzEa2E8ThNjsRoC0ZoYjdLAyAN1DEcKiXM4UgOjkVoYj9LB2ANdjIRroz9IHZ0+t9DqcYPp9lHBQKA6RiN0+PlgmDZInn0hmugP1UJfmBZ6QzXRHaqFnjBtdIZqfQGJtTNYg5MoJ9AANTT43QalTRJnjZcKU+9LclXn1NkSog+iIUAb9f5aaAzUQZ2f1hfU+GuDUAq12l+HBUrypOSpTJuVfiRNQZwVLDwhcRZ5aiLfTQ0kzwKFODlluqmh1F1dwFMDJQrKKGl6aaPMWxflPoI4i720UeiuxVxNnnluWiByL+WpwYkzx1mTEyeJU8nvpU1KnVfTJl0rE+dzm2tQijPB9B94ZPwD4gz/iof633HqjND9VpAnCVTnG4TqfMMCpVVASJvKxBmq9VmcIRqUVr9FmPZ3CNf8DqEa3yDozp/ge/Nf4a/yr/C78UcW5zOzG8h31keZlxlq/K1QH2qPsgBzlAaYoyTQHCVBligMsEKujxXSPcyR4WZ+Kc4k73t47nUPz7yc8cjVCdH37BF11w7hjnZ4cM+RBRpma41IBzsEmpvCVVsdbppqiHOyRVPKEyx3tmC6pQEDjdWYGerlxLk2N83SnB4ZwPRQP6YGBXHSSklzYqAP8xNjWJyawBIn1AlMjQ1jbKgfY4ODnDZJlpsrK9haXcXqwgKLlBLnYFcXJgYHWYbbyyucOJdFM5geHsHEwCAmB4c4cSqlqUymSjFS4qTr//3EuZAN6Xw2JF+t0sUcSBdyoFy5nLqYK9zPZ+NiPgsXsyTQ9C9WluRsJstSPCes/O58Fs7mMpjz+UyIF7Igns+GeDGHkxSlKUqY0pVCLslSWZagtEnCPFsqwhmty8IqCLQEJ8tlLM+z1QoQpytlOKfy7WY15Dv1LCcqz3KJdkco0cp32sBQiXavG/I9kmUvPh0M4NPBED4djOLT4Tg+HU7g0+EUPh2KFMzh0+EcPr2Y/4xCmvJXU5C/mlQkTxLnCMtT/mKA5fnpsAefDrrw6VAhz71myHYaId+uhXynBvKdSsh3KgR5bhcK8tzKh3Q9B/LNAsjWCyHbKIN8h2TbIIhzo4nLtrO1kRjI90FRuB7Czf+ChgQrSOYKcTyeiaORFIinMiGdyYFkKgMXk+mQTGawOM9HkiAeew7xyFOcDT+GeJjEGYeLgRhc9EbivCsE5x2BEHcEQNzui/MWL5y3eOCsyQ0nDS4s0LO6+zipuYuPVY44rnbChwoqrVrhIMcCb4rsWJofK+/jqNIZbyuc8arsPnNQfA/va7wgbgvEebMPS/O80QPnjQpxVpN0SZ5UrnXAm2J7Tp6cXgtscJhnhYNcS+zmWAjiLLBhub4pclCIUyjdCuK0w0G2jSDODEtBmGnmggzTzFmaO6lmgjiTTVmOm0km2HxuivVnRth4ZsLraqIhlh7rYj5WG3OxmpiN0YIoWh3TUWqYenCH1+loNYhi1DETp4n5xzqYS9TGXKIuZhJ1MJOgi+kEXUw91sHkI21m4qE2lIyxRLUw9kAT41FamIzRw2SMPqZjDTEVY4ixSF0MhWozwyFaGArWZGkOh2lhIFSApDkQpn0pzt5wLfRF6F7SE6HD173hOizUjhAtEO2hWmgJ0kCj/x3UeN5Epft1lLv+imrPWyB5tobqoifKFF2RxmgO1mN5NgXpoiFA5wvqAnVRG6BzSU2ALq7Kk9KmUppV/nqo8jcAibPMVyjXKsVJZVoSpyBNjUtplnlqgFGUfqnMS/IkcVb46oNSJ4mTUmeRh/ZlyZYESiVbpTyVyZNKtSTOrPtqLM+Mu7choPJF0lSWaum9q3wtzqcWPyHR7L/w2OTvl+VakmeU3ncgeUbofYdw3W8RpvstC5NW4fq34iR5hmp+w1wVZ7Dan+Gv8u/w+vVf4Hfrj/C79a+I0v0bsu9qoSbQFo2hDqgPsUN9mD1Ls8jfFAX+Jsj3N0WWjylS3UyQ7GKMFFdToVRL5VovRzz1cESCmwPi7tsh6q4NHjjZsjADrS0QYmeNUHsbuBvqwVlLgwWaGxmOntwszDTWYn2wF8sDPZjr78Hi+BCWpyewMDmKkd5ODHa1YbSnk8VJAhUN92NufJSluSyaAjMzxfIUTYxiYkSQ5szEBKdNkibJk8RJZduh3l70tLZiqLubS7GUJEmeJM7x/gEMdXWzPBenpjlpkjxJnPTO/zFxXizkQLKQg6urdDEXkkUqoebxSveUDJX39D5J70Ip0CsrCZE+V4rxYjGb3z2dycD7yWS8HX+OdxNJOJpKwYfpdBzPZuF4Nhsnczk4W8jD+WI+S5LTJSVMTpklOF8hSZbiZLmY5Xi2Wsrp8nS1CmcrVaBVoALn6zVCmtttFkqjuy2Q77VCvtcG+X4H5HtdAizLfkGYhyS4YXw6VEjzYByfDibx6cUVcb4gaV4R58sFSF9OMZIXk7jgPuf4Za9TcjAI6UE/ZHu9kO33KP5c+vPbINlugniz4bKMLNushHSjHNLNEkjXCyFZz4dknXqe2RCv5uJ8mVJoGeS79Zw4Jas1kG814nSxBLsDSZioCkHNYwtkB6ljujKQBStbLsa7kSSckixFmbiYSsP5RArEE6k4H0/CychTHI8k4mQoAceD8TgZjMfZYCzOBqJx3hOB8+5QiHtCIO4OgrjTH+J2P4hbvTl9nje7s0CVoqOUeN7gxhyVO+BVoQ3eFNtxj/Ilia7ADodFDvhY5wVxaxDErcEQd4RC3EHi9OVSLYuzyRUn9SRjRxYyJVr6ee9K7fnn0c98XWSLF/mCOEmeJNGXBdYsVhIsy5NEW2iPl/nUH7XldLqXaYX9LEvsUpk4wxw76RbYSzfHLkk0zQwszxQTbKeYYSvZGFvJJE4DlubaU30sJ+hh8ZFCmg/VMftQA9NRtzEZqYKJByqYjFLFVPRtRhSrjoUEbSw+08XiMz3MP9PF3FM9ZvaJLkuURRqnDVG8DkTxepiO08VUrA4mYwSmo/UwFaWHmYeGmHlohOloA0xF6TPj4XoYCdUGSXMwRIMTKaXSvmCB3hB19ASpoydEg6H0ySmURBpG6DAkUiWdodpczq3zusX9zjLnX7jnWe9zB53hBhiMtUR/jDnaQvRAJdzmYB00BdG1QGOgLpSQQIn6ID2WaJWf9mXplkRKkFRrAvRR5UfS0+E0WuylgQJ3kuZtFLndQYmHkDJJlhUeGij31BSgXqm3Fip99FBB0vTWRZWvPkuY+p4lntqMUqAkUUqh+e6ajFKg+a5ayKNep7MGsu+pIfvebWTdVeWVrnPu32HoWoDe+Uyy3Q0k2V4HJc5n1r/gmeVPeGL+Iyh1kjwpdVKvM8bgr4jW/x4P9L9DJElUIdBwve9YnEqRUilXCSXTz8L8FmEa3yCUep6q/wHfm39kcfre+iN//tTyOsq8TdEccQ8tkffREO6AulA7VIbYoCTQgqWZ7WuKDC9TJLsZI9nNBGkeFkjxskeShz2euNnisYst4p1tWZzR92xZnCTMACtzBFhbMr7mpohwckDxoziMVFdiq78X6/09mO1oxcpwHzZFE1idHsOiQpot1RVorChFZ0Mtl2jnx0exODmOlZlprM/PsjSXpiexMDXOpdrJ0SFQuZZKsqLxcSzPzWFjeZmluSASceJUinOgs5MTJpVlSZLzE5OcNMf6+jEzOsbSJGFSCZfWnZVVKJOmUqD/3cSp7HX+QbyQj4uFfFxdJYsFuFgsgHSp8HKVLBXyPa30nN4Xz+fhYuFLxIvC/dX1fCEXH0UZeDX8HPsDiXg59AyvRpPwZjQZbyYz8H4qE+9F2TiaycXHuXycLBTidKmIpUD9SxqiEahUlGGrIF5XsFGL8/U6liWt4o1aXJCQqCy73cRId2goh2iFdKeDUyYlTeluD+QstgHI9ihtjuDTwRhke6OQ7Y1DujcJ2f4UZPsiyA9mID+YhewK8sM5CMKcgPhgnLk4GOVhIRoYEu8N4ny3D+c73Tin4aOdTkh22iHeasbpWh0+LlfjZKmCOVsq5UR9upSPk6VcnCxkMadLWTiez8Qx/Z+T1VLIt6oh36yGbL0G8u0mHM3mYrn9IXrz3VH7xBKVj0whqgni/31ky4U4nc7EqSgdp1OpOB1PxslYEk7HnjHHw0/wYegxczQYhw8DD3HSH4OT/iic90XivDccF73hEHeHQNylkGebj5A8mz3A8mxwxWm9C3Pe7CmItcEdHyvvgZImiWwzwwzLKcZYSTXBUY0HxJ1hEHdHQNwVDnGbH86bPHHW4I6zBlecNd7HcZ0TjqvtcVztgA+VdjiqsOcy8JsSayh5WWiBgzwzHOSas0RfFVqzWN+W2IMgwdKf/TKfhoqorGuJ/WwLhsq8fJ1liYNMc2Y/wwx76abMbpoJlFz9bCeVZGqEjecGWH2ii2US42NNLD7SxGKCJpaf6GApUQuLCVpYeqqNtWQDLD3XYxaT9LDw/CuBJuph5pGuAn3MPBJggUZrYzJKGxOR2ph8oMtMROqyNEmgk5EGGA3TwRAJMVANPf630e2nii5/BQGq6A68jc7AOzwsRCv1PpX0hFApVxt9D/SY3khddIVpg/qfNESk7HlS6bbJXw0d4froizZBb7Qx2kP1WZotIbpoDtG/RClQWkmYREOwPguUREnyJEiYtYF6CgxYnpRCSZ4l3poocldjaRa7qwnp0lMDlZ6aTIWXFhgaMPLRZlmSPIlqPwPumQrlW2FoiNIn46nzRQJVDg0VuGmDUMoz11ntUpZXr0mg/0ycJE+lOJ9b/QJl6lSWbHlQyOgHxBr9gGjDvzIPDP6KSP3vEaH/PS7lSWVbhThZmtrUG/0eEbp/RaT29yzIYLU/wV/l31ictIZo/AnxZr8g10UX1UHWaAq/eynO6hBbVIbZoiTICrn+5pw2073MkeZpztLM8LJCiqctnty3wKO7poi/Z4H4+9Ysz5h7Ngi3t0CgtRlC7K3hbWYCf2sLpEeEojUvG30VpRioqsR8VyfWBwcw19OFtYkRbM9OYXmSepqD6GqqQ1FmGgrSU1BbUojhrnYsTIxhdWYaq7Mihsq0lD5Fo0OYHOrn4aDh/h4u1U6PjWFxZoalSSuJdGJ4mPuffe3tIHEOdHSiv72DUyaVZ0mYJFLqdVISVYpzY2HxC3FSf/N/p1R7Kc7zxUKIFwpxdb1YLIJ4qQiSpeLL9WK5mO9pVT6n75FgryJeEu6VKyVI4uNMFl6NpmBv8BleDCfh5VgqXo+l4s1UJt5OZeH9TA4+zBbgeF4QJqXL05VyXGxUQ7yh7FPW8USq0KukfqVSjs242GqEZLtZkeQacbpWi48rNThZq8PJWj1O1xtwut6E081WnG604WyzHWebHTjd6sbJZg9Ot3oh3hmCZG+EudgdxcXeBCPZn4b0QATp/gwu9kW42J+B5GAW0sM5XBxOMeKDSQiM41Keu8M43x3A+U4vy/NipwuSnU6cb7bg40o93i1U4sN8uYJSfFgoxsf5fHyYy8XRXCbzYT4D72czcETJfCGfk7dsg/qi9czRbA4WW6PQnnUPNU/MmIkKHxzP0ARzPlcTzmYEcZ5NJoE4HXuKk9EnzMeRR/g4/AgfhuLwcTAWHxXiPO2PhHggksV50UvJkxJioCJ1KuXphdNGd5w0uIF6k9QHFbdRSZeGfdw5Rb4qtsdykgEm4zUw9lAN+4WOOG8OEOTZEcrfP653xXEtCfMeTmspaTrgY7UtPlaRNG1wVGGLd2U2eFNihbel1syrIhKnCQ7zzfAi3xKviizxptgWb0vsLiF5UhLldJpjweXjF7mWLNIXeVY87Uv3VFYm9rPNsZ8lsJdpCoLud9JNsJliiPUkfaw918PKUx0sPNbAbJwaZuNvYyb2DuYe3eHP5h+r8efzCepYea6rQO8yeS481cX8Ez1Q6iTmH+lhTjFMJEzi6mEmVpelORahgZFQdQyHaDAjoZoYD9fBZKQer3RPz/r8VdHhc+NLfG8JEg1QRae/CjpJrIFql1AS7Q/XxmCUAQYe6HPqpD5oW5AGp07qexItgRpMW7AW2kN0edKWpm2VtIbqgSCJElflSdckTmXq5N6nImnWBemDqA80RG2gAahsS/Kk4aGr4iz3VAdR5aXBVPtogqjy0WKqqdzrJ6TNGn8DlielT6F8K8iTE6i3jlDC9dBmgSp7oIXuOiBInsr0SRJVQkk05746o0yaWXfvQEmK/U2QOJNtriPJ+lc8t7qGZ5a/4LnFz3hqRsnzv5jHJpRA/4F4k38gzvgHxBj9jQUaqU/p81uE61Lvk9Lmn3mIKIyl+S0i9b7HQ4MfuBRLiZPEGaD675w66T7B8ldk3NdEhb8FJ0zqa1KZtibIFhWB1igJsEShvyVLM83TBGmeZkjzskC6txXSvKzx3M0Sj5yMEetgiLi7pnjsYo3HrrZ44GgJf3MDuBvqINzJDrEerkiJCEFzQR6m2lsx290JUWcnZnq6Md/fizlKnlNjWJ8ex2RfJ5qrSpGb8hQZTxNYnE2V5Rjr7ea0uTYrwtrcDKfNhclxzIwOY2KwD6N9PTwYNETDQ0NDLEpKmZQ6aVUOBg10d3OPs7+jA52NTWivb0B3cwsoaZI0aaKWyrO7q2ssT7omcdK9MnF+LU5lAr1cv5qq/Xq69g/nC0X4GvFiMb7mYqkEV7l8viRIlkT7GxapR1nM3zuez8friQwcjqTg1Xg6y/LNJCXNPBzN5OPjXCFOFoq4Z0m9SmWivNgkWVKvskHoCe42QU6Tqby1g0qxtM1DgEqgdC3ebMTRUhVez5bi/WKVwFIt3i/V42iJnjXiw0ozc7Tagfcr7fiw1onTrX6W58XuMMQKcYp3x3GxN4WL/WmWpnhvGuK9z/KUvJiG5ECQp7BOQHIwIchzV9iacrE7iIu9XkipZLvXjYvtDhyvNuD9fDU+zFdcivN4vpj/Hlics1mX8iRxvp/JxNvpdJAoacsNlWxlGzX82WpnDHryXdCQZIW6Z+YQxJmOs9lM7l2zOKeTcSFKhWQmFedTSTgbp9T5FCdjCczH4XgcszyF1HnaH42LgSiI+yI+p85OEmcAxK0kTqFke9ZEPU8PFielRpKn8Iye++Ck1p0TJ4mzL+w6llNN8brcGUe13tzjfIZX9LQAACAASURBVF99D++pN1pDOOC4xo6l+aHKBkeV1gIVNHhkpRCnJd6WkijNcJBnLIizwEIQZ4k1J1PeHkOTvsW2eFlgxWJ9kWcBgvqvtEXmZb41Q/cv80mmwvPDXHMc5Jh9wVaaAZafaoGlSKKMU8VUzC2MP7iOschfMRL+C0Yjrl3e02dTD1WwkKjB4lx+psPiXHiqg/knn/ueswkkYH0Wp+ihFgiSpuihDotzNFwdA4Gq6PNXYTkOBqmBZDkWrs3rcLAGhkLU0euvgjavXy9p976Odp+bLE5KnV0Bqjxty6VbKt9SSZdKvJG6LM3+SD10h+vw8FB7sCYI6ntS6bYzTBckzeYAdTT63UFTgAZag7XRHqbHKMWplCcl0KvybAwx+I04KW2yNIMN0BBkhLqAz6mTxEnlWUqbtFYohEniVEqzxleQJslTKU5KmyROgtIniVPof5JEdUHbVYhiRfJUlm6LPHRBXJUnCVQJiVMpz/8VcSrlSeJ8Zk5lW4FEsx9BPDb7Lzwy/QdiTf7O8nxg8D1InixOLYU0aVWIM0b/b4gz+gdi9P+OcM1vEaL+ZwTd+U8u2Ubr/YAsF22U+JoJ0gyzR3WgNSr8LFHmb4kSPyvkepsi28sMqR6mSHI1Qoq7KdK8LFmaye4WeOJshod2eoix00P8PVMkulsjwc0GYfYmcDfUgIu+BiKd7VGR8hTjrQ2Y7e3CZGcHRD3dWBwawNzQMET9A1iZmMDWrAjTA92oys9CQlQYYkL8kfksETXFBRjp7uS0uSKawsb8LDYWaIuIiAeDaKpWKU6SJm1JIUnOTU1x4qQBIRInpU2SJkH9TUqdJE2it7WN+5qUOKlkS7Kk7SY0cUvXlD6/FidJVFmqvRSmYrvK19tRfiPO08UiLo1yeXSxCGdL1FekadWSy2v6TLxSyp/R+/TsYrUMymvl+79dy/hnUBmS3qU0SYJUSpL6c8qpWBroIVlSwqTtI7R1hPZdyrdpgKaRpUnDNDIa8PkKOfcw2yDfa+f+4cVWE05Wa/FhqQonq3UMiepkrRnHqy04WWu95GyjC2cbPTjf7MXFzhCkNEl7OA7ZwQSXauU0RXswA9nhZ6hEe8nLaXx6RYgEXk9B/mICssNxyF8Qo5DsDSmk2YdPB32Q7/XgfL0ZHxZqcLZUraACZ0v0d1qC08VCnC7mMWdLefg4R+XaHBzNZOKdKIu329BAEf090vP3onTM1AehJcUGNYlGmK31h2yDKgY5+DDxjKeZZcvZLE3x9HNIREmQztAe3BScTz6BeOopxJNPIR5PxNnoI1yMPML50ENQ6jztDeNe51lnMM7aA3De4icM8zR747TJCyf1bjiuc8NRtTOv542eOKl15aGg8zo3nNZ54F35PezkWnOpdq/AAe+q3PC60g0f6n14wIjE+Y5KstV2IGG+r7DE2zJzvCu3wrtSS4ZkyZRZ4nWJOV4UmuAg3wiH+aZ4WWiO18X0nMQpTPfSlC9BpV1Ko5RMD/MsWKSvi2xApV2SKj0jqPT7okCA3uUycJ4Z9nNNsZ1piPVUXawma2MlSQtLzzQxl3AHongVluj0QxWIYlU5fVLyJLHOxN8Gpc6FRE1mPkETxNwjLczGa/LwEA0QKYU5HaOJqWgNTEVrYTpGGxMPtDAcegeDQbdZngOBdK2GIU6fmrwOUIL0V2G6fFVA0OQtlWx7Au+gN4j2gmoyNDA0FKGL4Ug9jDzQx0i0AUOJk4aHuoK10BGowdLsCtNBb6Q++qMMWZztIdqo91HlvmettyqnTep5kkCpz3kVkib1OZVDQ8qSrbLnqex71pM0QwzRGGzM1AUZcsmWpm5p20qJB4lTDZXeQsIkWdb60DYYbdRRavVToodqX6FXSj+jNsBQKNkqe5++tE9Uj2GBeumixEuXBUoSJWGSOJUlW+V9oZsuiDxnLSbnngay72ogy0kdmY5ql6TYCmkz2fomrpJifQPJVtfx3PI6nln8eilQEikJlORJ6ZOSJ/U8eZ+nYq9nmOafEK7zLaINf0CUwd8Qb/YTogz+LgwJaVOP9G+INf4JSXa3Uexjisog68ueZlWANcp8LFDoZYpcd2Ok3DPAcyd9JDjqIcFJD4n3jPDM2QTPnM3x3MUCcY76iHUwQLSDPh46GiHBzQoP75ohyFofD93skB0Tgqr0p+ivr8B0TxtEvV2Y6u3G7FA/lifGsTAhwtzoOKYGBtDb0oS60iJkJyUiLtQP0YE+KM3JRH9bM6aHBlic63MzLM71OREPENFULfU4p0cGMT7Qi9HBPu5xkjQpadJQ0NriIguU9nRSEqW9nJQ2SZyUODsaGrlcO9zdwz1OZeIkGSonbmklcdJnJExl8vyNML8S51WB7m1uYndrk/dz/oFLtEtFnAwpMZ4tFDB0LVkpuUyRdE3pkd6na+lqqXCvSJQs0yVBuJ+TaSlkaxWQrVVCulKGi6VSTrK00r1stRKyDaFnR307+RZNjNKUaQPku40CVJLcqoNsW8FWw5dCVdzLtppASLevsPXlQQeynQ4I205o6wlN0/ZAvt9/CU/U8nDQKPc6aSvKJ8WQkPxw8sp0rWLKlgaFXk7i08upK9BAEU3k0pDRKD69oHUY8n3qodIgUh/k+92QbjTjbLkO4uUqBRU4XyoXkv5SEZe3qcQtpmnjlUKeLqZy94fZLMg3aUtKJfeHabuObKMEy83hqH9ihrIoLcxW+0G+Wwmaan41+AjnM6mQ0TaguXRI52jvbQrLUzz5DBdTz3A+8QSnYwk4G30M8egjSEYfgxLnUVcYPnSE4GNHEI7bg3DaFoiTJj98qPPE+xp3fKj1wPuq+3hbcRdvyikxurA035Y58aDOUdk9TpyndV44pu9UuuG43psHhF6WueBtlQc+1t3HmwoHHBaZ47DIFG9KLViab0rNWJBvis1BUMIkXiuuXxaSME0V4rRQiJOkeUWcJXZ4XWzFkqRyLsGyLLThVSjj0nCRBUP90v0cM+xlmzK7WSb8HfpsO8MIG6n6WEvWw8pzHSw+IRGqY/6RBubi1Rkq31KvkyBJkjRnH6ljJl6ABoamH6phKuYOJqPVmPFINRBjEXcwGn4b45HqmHigASrTDoXcRq//LU6cJE4qy46GaXHaHKTU6H8bHb43WZgsS//b3OuknicNCdGkLR2OQIckkDBHowwwFm3IjD40AkHi7I/QR3eINjqDvkybXWG66AjV4VIt9Tx5WMjjJqfOthAd3ueplCYNC9FBCcrhIFpJoiRK5ZStUp5UvmVphhpx4qRyrVKc1Oek1FnmpcF8LU4WKO0f9RWgtFrrrw8q934tznIvSp2CNGnilij3NUCpt94VedK1/iWl3gYo9tBnaea7aIMgeX4tzgyHOyBS7W4ixebWF9IkgZI4iSSrG/yMkiiVcLmMa3UNiRY/XYqTJm5JnOGUNDX/hFCN/+TE+UD/ryzOONOf8dD4R5YnrVSeTXVUR6GXMSfL6hA71IU7oi7EHuUBVijyNkeOmxHSnQ2QYKuFKPPbiDC7jWgbHcQ7GuHxXRMkULq8a4rYuwaIstfDAztdxN41xlNPW8S5WiHOww4liZGYbKvGVEcDpntaMdnbgQkS52A/T8SuzIgwMzmH+ek5jA8MoKIgH+lPHiMtMQ6pj6KQ+igGLdVlvHeThoKWpiZA4iTWZqd5ywpJk6ZqSZxj/b28FYUGhEiaNE27s77OK93TlC2Jk/Z3jvb1cY+TxNnT0so9zsHOLoz09HK5lnqbL7a2ua9J0iSuyvLq9e/KU1Gq3Vtf/92DEP5wNpcrDAYpepXn83kgeFhoseDymoeClqgfmg+6lq2WQLosHEogXS4RZKpYZSulECjjfqhkid4tgWy1HLJVEmY5ZGtEBe9LpL2JzEY1uH+3WQO5AuXJQBdUvl2hPZt04EEFnxYkXa/iIRkalJGuVTOyjTrIKanSXsm9FkVibYF8lxIp0fkl+928FYW2o/C2lN0+yHd6Id/ph3xnEPLdIch3hiHfG/mSyz2etN+TntG7A4rv9UO23QM50w3ZVhfkW52Qb7VDvtUK2UYzJCt1OF+shmy5EtKlCkiXykB/T5KFYkgWinhgiwavzmazeQCLTg2iviUNWsnWyyBbK+FJZOpjylYLMVLgglSPH/HI/i/oTLaCbDmH+5lv+mMhnkwShClKhmQ6iWFpjj+FRJE0TylljpA4EyAefoSj7ki8agnAUXsI3jb5402DL97We+NtnRfecGJ0xdsqN7wpv4sXxQ54UWzHAqV0SfsqdzLMeb/l6xJHPjHovCUA4rYQiNuCcVTjyXs4qd/5ttwRr0tp4tYC+wWmeFFgysJ8VWyGwwJjvMg3wYs8U+Yl9TMLPkNpk1IiyZAESf1NKtPSBC5BQ0L0TNnnPMyz5C0s+9TPvMJetjmI3Swz7GSaYjvD5JLNNCOspxhwyXXxiRYLcSZeDdOxtzH1UBUTUQLjUbcwEa2CqYe3MR17B5MxqqDPaJ2Mvs3vjT9QwXjkLYyFq2A07BYzHKoCYijkFgaDb2I4VJUZIGkG3kK3/y30BKigL+gOBkLUeYJ2IFgDvXTYga8KWqhE630DHdzTvI2eQDU+RYiSJouTpamP0SgSJsnS+AtImn3h+mBJhmijLUgTrYq+JpVniQZfNd7TWeVxk9dGf3W0BNH2FS3U02Eb/hp8SAKttK+z3p/2eQoo93WSPFmc1NcMNkBjqBHTEGIMoi7YCDWKXielTpqYJShN1hKKpElp8zJxBuhymZfEWx9kjLpAI4bKtVX+hqjkYSEaGDJAhZ8hS7PMR5/FSWlTQA/Fnnoo9TJEuY8xQ9eCPPVR4KqHfBdd5N7XRs49LWQ5aSDTkVKnOjIc1JBqq4JUW1Wk2Kgg2ZoE+luSrG5y8ryUqNUNTqDKnudD/b/iAW1VUciT1ijd70FlWhIlifORxTU8tVVBCiVeFx3kexmhxN8cZQE2qAiyQ1WIAyqD7FDkY8HSTHbSQaKtJh6YqSLEUAVBRqoIMlZDqJkGYuwMEOdgjGhrPcTeNUKErS7i7pkg9r4JIhwMkBRwH03ZTzDZXImJ9lpMd7dA1NfBZdjp4UEsTE1w6XRONI2xsRmIpucx0DOA3LQUPIoKZ3GWZCahrjgPQ+1NmBsbZmmSaKlES/1NEicdkkDlWpqwVSZO2sNJezlp6wlJUwmJkw5DoP2dlDjpAATay0lpk8q0tAWlr62dV0qcJMqX2zucMun6dydqFQNC/x1xKku2f6AtJpesFEC2VgTZejH/Y8z/KNNnxGqhsNI/1Mp7+ow25a8WsUhlK8WQLRcx0sVCELQlQrZEn9F7pQJ0TayUQPgOXdN7JNwr63IppIvFDA0qsVAWi3ilexn1XfleGFwSBF0K2XI5ZCsVl4lWtlHLWzjkm42QbzVBvt0C+U6zsNL1divkO62Qb7dBvtkO2UYH5JudkG93K+iFfFvBDom1D3IWbB/kJMXNLsg2OiFb74B0re0S2VoLLpYbcbFcD8lKA2Qr9XxogWypFtKlKkgWKiGdL4Z0toj3XUpmC3Axk8uIRVkgLmaycTaVibPpdEgX6GSlAp6UfTf6DMeKbSbSmSwsVfmjLdEMddE6mMx34anZd/3xeNUdzVtOTsdo28mjSz4OxOF4IA4fe6OZDz1ROOp+gPddkXjXGYHXbSF42RSIlw2+eFXvi5e1XjisdMd+uTP2y+7joNwZL8qcWZoHhXY4KLTBYZEtH623nWXB4tzPtsKrYie8LqF9nh44rvbEmzIXrGda8R5GUaIwNLOVaYqDAkvs51tgL8eI2c8V1oMcUxzmEuZCHzJfSIhUSqUyKknx89YXBz4wQXlUHx2cQPs+ee+n4uCEvSxLbKeb/S5baabYTDVhNlKMQawlGWL1uQFWnuljiYZ5HmtjJk7jMjlORFFyVMdE1B2MP7jNKVIUq8GyHAm/gdGImwxdD4ddx3DIDQwFX8dg0K/MQNAN9Adev2Qg6BaIviAVFmdfkCp6A28L5Vi/WyxLZUm2w/smi7PF6ybafG7xkXudfqqgE4ToCL6+INrTqYvBcEqcgjxHYz7Lc+yhGQYfGKE/wgDd4XroCBG2o9BULe3lrHK/iUq3G7xSiZZOE6IeJx3HRytR46PGpwop5VnrR8fxCVR5qfFBCCRPZYmWkuZVmsJM0RhqgvoQYxanckCIj+jz1ECNnx6jFGY9TeT6U2lWgZ8ey5NKtATJk8u1AUaoDjBigZJEKWmSNJXQvfCZIadNpTjLvI1Q6mXMlHgaXYozz1nnC3GSNAVxCtIkcf4e6fZ3oBRnmp0q0u1vs0SpZPvU4mfEGf4NMXrf44H2N4jQFBJnhNY3iNb7Kw8FkTSJROubSL+vdSlM2mJS5GuK0kA7lAXZM6WBNij0tUCWmzGeO+oi3lYLoUaq8Ne7BX+D2/A1UGOCzbQQaWOAMEtdBFtoMvHO5kgOuIu8aD90FDyHqL0Kos46jLXVQtTXjrmRfj4ab3p8BDNTk5ilwwamZzAyPoeR8Rn09Q6horQEuanPUZSZguaKQoz3tGKqv4tLupQs1+aE3iaJko7ko72e9DlN1tJELSVOKtVS4qQj9ihxbq+t8UqlW+p70jF8JM6V2VlMj4ygqaqae5yUOmlAiPZxUkn21c4uQ9ckzf9dcV4t1SqlSesfpHPZ+IJ5OvggF1Jar0LvKZ8t5kGqQEalwqX83yBdzAchWyqAdD4XUhpqIWayIRVlCfBnWZDOKqBndK1cKW1NZ/AeRPFMJq/nogz+jFbamyih/65ZxX/vXC6kTD6kc/mQzhfhYrYAkjkSU5EgKRLVAgm5hFfJIl1XKJJfFSSLlbhYqIZ0sQay5TpIl+sgW25Q0ATZchNkK82QrjbzerFQC/F8DcRz1TifrcLpTPklZ6IynE6X4ny6BGJRKS5ExRBPF0E8mY+LqTyIJ3P5ZB/xeCav52MZOBtNZU5Hk0GcjaXgePg5zsaShb/HuWy86IzFel0QDtpj8L4/AcfDz3A2/BzHA0/wvjcOHwce46gvHget4dhrDsHbrmgc9cbgfW80864nCq87w/GmPQyv20LxsiUEh01Bl7xoDMTLpiDmoMYHr+r98brOF4eVHtgrc8FBmSv2S12wVeCEvXwbkDj3C2yxlW3Bg0B0mo9wRJ4tny+7nW6O9VRzrCSZYCZBDwPhKmjy+juavf+B4UgVLD4zwF6uJfbzrEDlUUI5oKOcchVW2lJixVzu38ynE4WEQw/eFt/Fu5J7DF3TCULKs2tfFTjhMNceOxlW2EgxwzqdAJRkhrXnpl+w+swExAqdDvTUmK+V79Dny0+MLgd6ZmK1eZCHhnmoR0nQMXtztMXkoQYmIm9jJPQmy/KqMAcCr6E/4Bemy/8aOv1+QZf/r+gOuP6ZwJvoDryJTv+baPe5gRbPa2hy/wWNbj8zTe6/gvG6gSavm0yzB71HMr2Fdt/b6PRXQ1cADQNpoTeE9m3qYSDSAIMPDDEUZYThaBMMRptiIMoEvRGG6AjWRZOvOmrcqSx7DcV3f0LJvZ9R7nIDNV40GEQpUweN/pqo86Mj+NRR46vBUNIkYVZ63UG1tzqfYVvupYYKxTWJ7mrSpMQplGtNvhBnhT+dAEQnAVG5VlPoX5IcFVBZlsuzgQZcnqV0qUyatFLypEEhKtEqU6eyRHtVnqW+hiAoZZZ4GoCEWelninIf00txFnsYodDNAAWu+shz1kXOPW0+ZCDLSROZjpQ8NZBMadPu9j8l3Z5S6W1OpWl2wkqpVNn7fGz0A+L0/4po7W8QqfEnhKrR4M+f8EDnO0Qb/gMxxj8i3vwXJDupIY+SsL8lyoNtUR5qi7Iga5QEOqA4wB5F/jYo9LNGLm03cTXEEyc9xNnpINBQBR7aN+Clqwo/I81LAs20EWiqDR8TNUQ6GiPW2Rqlj8Ox1FOPnbEuLtGOt1VjYbAbKxNDnA4XpychmpxgYU5OzWJkfBpDk4sYGJvB4NAYOjva0FxbwRO1fc01WB4f5K0pGzMiFiQlToImaWmfJ51hS4NBNFXLE7V0Rm1XO8uTBoLomD3qcdJK/U0q0fZ3dXHq3KQj+EQiVBUVo7GyCl1NzZw8aar2zd4+Prx8xSuVZP9PiPNrgf5httAZ8yXumC9xxUyhCyZyHDCR44SZgvtYLPUEPafP6Z7eW6vywUZtADZq/LBVH4TN+gBsNQRipykYuy2hOGiPwMuuKLzufog3PbF41ytA/5jTKTWSqVRIJlME+DoZksl/jnQmA9LZTAG6FqV/5qt7yXSa8POn6TvU08sVJDxDwibyPjObDymxQCKlVCuIlKW6UAbpYhmkCxWQLlZCukgirQYlxa+RzlaAmSmHRFT2mZkSSEUlkM4UKyiCVFQIyXQ+JJN5kIxnCUzQKT4KxtMhIcbS+DxZOoydjsUT0wk/I0mQjKXgZPApDloisVUXzOvbrli86XyI04EnOO5LwEn/Y5wNJuJNexQOm8Jw0BiMN+2ReNtBKTIMb9rD+Zqk+bYjHEedkXjXHs7Q9YeuB3jfEYFXzcE4bAjAWU803reEYL/KA7tlrnhT54Pj1iC8qfFmcb4sccDbintcsiVhbqSbcqmWDiGgw9lJantZVtjPtceLAkfs5TlgKckEw1F0PqsKJmI0sfTMCFuZFqCkSmVSKpfuZphiO80Y22mm2EoxxWayCdaTTLFOJ/ukWWA3kyRK+zPtcZjrgJf5dKD8XbwuvMcr3b/Ic8RBjiP2sx2wl2mHrVQrrD03w1KiMRYT/jkLj0mOn5l/ZAhiLt4As3H6mInVw1S0MMBDQzzEeKQmxiLUuD85GUXSVMNomAqGQwRxUspUJs2r4uwOuAaCxEl0+P6CNq9f0Or1M1q9frmUZYPrT6h3+Ql1zj8y9S4/g6hzu4Za119Q4/Izqp1/Yupd6HvX0eypwrR530a7nxo6/NV5AKgzSAvdITroCdVlYZI0u0L10B6kzeKs81RVpE06v1YVdd5qLMvWYF0+/IDkSefXsjz9NEHJkoRZ6nYLBfeu8UoHvpM4L+Xpp837NpVDQcrUSWmTaFBQG2IEgkq39QpogKhZQVOICQjl95rDzNESboGrKx2EUOSuyfKkrSg0FHS1RJvnog7loe7Uj6ThHUqDn8uxmiA5kvSINLs7LL9kaxUkWZH0qPRK37vBwky1v4N0Kt06aTBpVMK1v8PP6D3h+6p4Yn4NCSY/45mFMDCUYPITHlHi1PkWEer/iRDVf4Xv9X+B97X/B34q/8aHH5A4kx3VUOhniopQG1SE2aMsRNibSfszCwIdkOtniwxPcyS7GiDBURPRFqoINb6JQMNb8DVQZUH6m+nBy0gLvqa6CLYyQqCFHjwN7iDY1ghZEb4oexKDnpJsbI92Y2e8F3N9zVgY7ML8UA8Wx4axODWJpdl5LC2tYHFpDVOzSxgem0X32CwGxucxPD6N7u5utDXVo6uxBkPt9Vgc7cfm3BQ2Z2cwPzGOufGxSzhtTtHWEfqcThjqRldzI1ob69Df3XE5UUvTtMo9nCRPSpvKUu1AZydqS8s4cVKpdrS3j7ei0DTt6909LtVSGVaZOpV9TVqV179bpqUBIUWPU7lSr5NQlo7/0BiphtYYbXTE6fJaH34btaG30Rylga5HBmiP1UFLtBaU7/UmGqL/qSlo7XtigtEMa4xl2mAi2w7TuY6YKbiLuaL7WChxwWKpK69LZW7YrvHhf7Q/9ETjqDsK77seKNZILg9SifD3oH7b+WA8c9ofi+O+GIau6XN6rnzntD8OH/oe4mNfPM6GEiEeeYbj/sf42JeAo97HeN/7CO95fYyj3gR86EvEh8GnzMehZzgeSsLJaBpORjKY42FaM3E6moXTsSycjGYzp2M5uGQ4E6f/BPFoFs5HMhjxaDrEI2kQj6TgfOg5/2aS074nOOlN+JLuxzgheuKZs77HOO19hKOuh3jdGsky3KsPAbHfEIrDhnAc1IfxulcbgoOGULxqicBhYxhfHzQE42VzGF40BeOgIRCHjUF42RzCKZPkedQWznxoj8BJVxROuqLxoT0S71rC8LY5FBf9cXjbGIzdCg8cVHrhY0swzjsjcNQQgMNy4bedCGfNeuJt2V0u1dKJPTQY9LbYkX9rCR3M/qHcFae13jiu9carkvtYT7PCSjKlUDNspFlhK8MKm+mW2EozA5VMt1JNsP7cGFupFthMscBmsjnWn5tjnX5TSTJ9ZontNGsW4l6WPcuRJHmQc5fZy3LEXqYDtlJtsJlijbVnllhONMPcYxPMxBtBFGfIzMQbY/aRyf8ndOTdRLQenxs7HqXL62ikDobDtTAWrsl7LWm/JROmhpGw2xgJUcUI9S9DbinkeRNDwTcwHHwDQ0HXMRgo0Bt8Cz1BlC5vMO2+19Ds8SMa3f6BJvcf0ej+8xc0uP4Cos7tF9S6/owq519Q7XKNqXG+hlqXX1HvdgONHrfQ7KWKFm9VtPmqoT1Ag6H+JUG9TEqYnSH6TEewHtoCddAcoIUmf81LmgO10Rqsj/ZQQ3SGG6MzwgQd4cZoCzPko/cocZI0y9xVWJpZdv+FIufr/JtSSJpXTwxSHvpOn1UH6HNpVpkS60NInqaoDzNBQ7gpmsLN0BJhzrSGm6NdAV0TymdtkVZojbBkedJ1c4QVij20kOV4CwWu6ihw0+R9mzRJSxR46PB5s7T/8pn1Ne4jUrp7ZPITkm1VmCTqV9qq4pmlCvPU4haemN9EotkNJJhex2OTXy8hSZIws+/pItdZHzn39ZDhqIVUO3Uk29zh79NKwn1s8jNiDeg3p/yIRCq/mv6Mx4Y/IEbrG4Sr/QeCVf4Iz5//B5x/+L/gce1/gs6oTXK4g2I/M9REOqA60hEVEQ4oDrZGvp8F8nzNURDkhCxfayS5GuORgxYizW8hQO8neGr/CHetXxBopokoJwuEO1khwMoYgTYmiLhrhch7loi+b4WUARwJKQAAIABJREFUEB80ZydjuqUGK31tWOppwUp/BzbGB7E00ofVyVGehp2fnMS8aB4Li6uYW1zH6PQi+kZm0Nw3gYHpJUzNLqKnpwetjbXoaa7DaFcTFkb6sDE7ibVp+k0lw3zo+vTwEMuT+pvKUi2Va6lM29FYh8baKvR2tnE/k4aB6BAE6m1SqZagexJnd0sL6isq0FZXz71NOvyAzqmlrSi0BYXESAL9/ytOkuXu2tolVDom/rBS4oaNCk/s1voxW1Xe2Kz0wna1D/bq/PkfXHq2VubO0Of0/lKRCxYLnSHKsWems+0wSQIlkaZZYjTVghlPtxLWNEuIsu0wm+vA61SWreLaFqLsz8zk2OEqE+mWGE+zwGiKGYaeG2PgqSEzkmzKn4+lmoOg58NJJhh4ZoLB5yYYSjLDaKolhpMtMfjcHL1PzdDzxBTdibTSvQXTn2QNYiDZBsNpDhjJuovRrPsYzXLBSKYzRrNcmZEsVxCj2e5fMJXljulsD0zleGA61/MSUY4nmFwPzOR5YjbXHXN5HljId8N8nhvmsp0xm3Ufczn3MZt975L5rHsg5jLvXjKb4QRRphO/M5/vgqUid6yUeGK52AOLeW5YLfLCcoEHr+ul3lgp8sBqsSezWe6N3Wp/7NX6CdT5Y6fGF5tVXtiq9sZBlQ/2K72xW+mNnQovZr/aF+9bw3HRH8/3u+VeeFnnhw8tofjQHIRXNd54VeWFt7W+wm82oSPzaJtKgxc+lN/HcaULzmrccVLliuNKNxyVOeOEepyV7nhd6oz9fAdsZdpiJ9seB7l38bLAGa+K7uFFgROLln5F2Kt8B7zMcwD/RpMsBxxmO+JAIcOddEqPghC302xB97sZ9izK3QxH7KQ7YDvNHlupdlhPEqS58sQSSwnmmHtsylzKMt4Us1eYe2SGr6FzYukwdTqlh464GwkXjrqje5pypWlX2k/JBxXQFpJgVQwF32J5CuIU5HlVnEp5kjC7qEQbeIMF2hVwA20+19DmfQ1tPr+i3Zfur6PV+zr3M5s9rnOJtsHjVxB17jdQ73ETjV4qaPJWRauPkC67AjXRzSVaXfSG6nEfU9nLpEGg7jB99IQboDuM0qYBroqT5NlCwgzSQUuQ3qU0uyJM0BVpiu4HZizP1lADHgai0izJs9jlBnIdf+bESX1N+k0plCxp3yZJkyZlaYtJqac6l2L5wHdvXd53SWfWVgcYoCpQH9VBBqgNMuTESYJUirMtzAwtYWZoDjUF9Ua5PxpiejkY1Bjy/3L2ls91nlm7Z/6B+TBTMzUfTp3urrcxnU5idsy2mNFiZmZm2mJmy2KyLGZmaYuZJUumJA6YhU6ft3uuqbUebVlO95lzzny46n723pKSOFX+6Vr3WtcyRmOwEQodFJFhehP3beVA6T8ET2oEYtfpp48Kbx3OrC1yVeeVYvfslFHorIlKbwOUe+qjzEMPFZ5GKHXTZ5W46p1AkcBIkCQxJAmazhSeoI8ydwPQ1xY4auOerTqDM89OA1mWdK8pONRko9uI072OZKNb3FiUb6uILDMppBhe55ItlWoD5P/GoyfJZtIMzaYoe4ZmRaA5KoItWMUBZigNskB5mBMKA2yQ62mCVEcdxFqpINRIDsGGCgg2UYXI1ggiBwKlFWLdHBDnbs8QTfZxRE1GLAYflmGiqQZzHU3YHO7F44khbIoH8WhyBKtjw1idGMPi+DgWpmexOL+ChcU1TEwvo3twHI0dg2jsm8TY4iaWNx9jfHwcfV3tEFPg+0gPNmfG8GhhmsFJwKTw9ekRuisd41LtwvjoSWYtgbO3rRntzQ0cgkAuk0BJ8CTRMwGURHedg11d6Gpu5nEUagqiny0Bp2QLCrnOX4NT4jYljvP060+ejx0mQfMpdfcei+5dSZ+97wnHXl8kjoZjWQcDIuz3R+FwIJr3MtJuxqPhOOx1h2O3K4zPnxp98V2NB/8F+vyhO54+cMVOhQu2y52xVeqI9SI7rBc5YLPEiV9vljhgs8geG4V22CiwwXq+NTYKrLBVZIP1QivWWoElTms93xKk5WwjLGYaYC5NF1NJWphM0MBUoiZmkrUxn6aL2QxdzKQLmkzRxki8OsSJGphK02FNpOpgLFkb4iQtjCRoYDheizWSoIXRRG0MJ97FWKo+JtINMZlhhMlME0xlmWIqywyTmaaYzDEXlG2JqRwrTOZan2jqng3m7lli4b41FvNtBOVZYzHPGkv3bbBSYIfVQgesFNhjOd9OOAvtsVRgh7l7VvzPmM+xwGktZFtgPsscc1kWrNlMc8xkmGE22wqLebZYKXTGWrEr1ordsV7ijo3iT7VZ4gEWgbTME9uV3nhU4YVH5YK26P1SD2wWu2G90AUr9x2xkGOL1XwHLORYYzrdnF9vlLrz9/cnGqMnzgBr5Z5YL/fASqEjptKNMZdthscVznhaaottirArt8d3ZfZ4XGDJ95lbWUZcVl1P1wdpLU2P7/5oN+V4lDImKRg9XhMryfrYSDfCVqYZNtKpjEr3iMb8TK9Xk42xlmLyiei9RQo+j76L+Vghx3Ux3hBLCUZYTjTmk7JdSRRNR7muY+F3WeOR+pgUGWIq2vhYRsLrKENM/RtNi4wwGWmAiQh91nSkAUhT9DpcF+IwQ4yE6GM45C5GQnUwGqqNkRAN7n4lRzpO6T+R6hiLUGOJw1UxSnA91kCwMgZDVTEcrs5nX4gKeoKUTmLyaKcm7dakRB9JOIEQUEAbT7Q5nJ0C2qmxh14PhtN4iT5GI41Z4mhzjMWYQxxrjrE4C4jjLDESY46hGDMMRptiQGSC/ihjdpM94YboDv1UXWH0mRn6RGbojzZHb7Q5ekRm6BKZsqicSiEEkiAC6oSl/NlWavoJN0ZHlDnaIkzRGGqMuiADVFOjToA+agKNUBtkjPpgAzSEGPLnTWEmaA43RUuEGVrDTdAWZiL8cyJN0BVpwgCln9UaZo6mcDM0hpmjOcQUDYFGqA8yQWOIGaoDDBmK9xxVkeekhjJfPVT4G+BhsAlqw8xZ1SGmqAoyQmWAAcr8jE5E5VBquCn3NTpRqbcRSCVehqxiTwOcFo19lHgaocLHiGcqy30MUOyuy408OfaaoO7WHAddZNndRZatJjKt1ZBqIs1l2wIHVRQ7a/C4CpVvkwxvI9HwNrvUXEdN7pCtCXNAc4w7qsKdUOBngZJgO1THuKM6zhMPot1QHuOJ/FBHZPqYIdnNAPGOOoixuwuRnS5i7I0Q7WiJODdHhNtbIsrZHulhAciNDkFVdgLG2h5isqcLswP9WBgZwdLYJJYnaR3YPGbHZzEunsL42DRmZpcws7CKqVm6z1xCR+8kalsGUNM0iIauUYxOr2J5fRtzM4uYHh3G3PAg7+R8NDuOnYUZrE2OY2ZkkJODaAcndeYuTY5jfoxgN8pNR/T+QEcbl2upbEuwlECSXKYEoAuTk9xROzYwwPCkhiAq0xI4af8mddRSShABk8ZR6JSkBFHJlkTvkRiUx4CUlGJ/fUrASbs/SU82NlifESgPB6N5lRStkyJo7vZG4G1HCH5s9MWb9mABon1ROOyL4jLd69ZAvGz2Z9Hzm7YgvGkPxbvOcLzvimDt9Yhw0BeDw4EYHPSJsN8rwmGviL9/vysce50hOOgOw0Fv+IloB6RE/Fl3GHbbAvC+1R9vmnzwc50HD87T8Pyrepol9OZly7RwmfSqwQsvat3wY70HXrf4sn5s8MQP9V7HHaFu+LbanUXgp2aXF/W++LHRn/VDgx++b/DFiwZ//NAYgBcNAfi+8ZQagvAdNeWcKBQ/NQfh55ZgLmdSSfPVsV63heJNexheNofgVUso3rSF411HJN50RODnlhB8W+uLxw88sFPh9om2y12xU+aK7TI31k65O7bL3PGo3B2PH3jhyUM/PK32x5OH/nhaHSDooXA+qwmERM9rg/C0NgjkQAmcBMLVIhd2sQt59pjPscVctg2mMywxkWKKsRRjDCfoYzBOF8PxBmgNoTk6eRQ6Xke5uxQ6RXfRHqGFpkAF1PtKoz1YHqMJ2hgWKaIvTBYjkQoYjVLEYKgcunxuot7hPGrtzrLq7M/x+cDyS5SZ/ZX1wOor1NqdQ7PzN+hwv4FeH+lP1O19B11et9HjLY1uLyl0uN9Cm+sNtLvdRJfnHX6Pzi5P+lwGvT5y6KO0HF95fu7xluX3O91l0OZyB41Ot9HiSveHyujzV0N/gAZ6/ehU59d9fqro9aURD+Gk5x5vZdZQoCbDkyBKwBwPo4B1HUyG62Es3ACjoXoCNMN0IA67i9FQIXhdAKfG/yc4CZgjERoMzoFgFXT6y6Pd51h+igxNAiWFEgxE6mBQpIfhGEOMxhljLMEUY4mmEMebYCTWiJt8qNFnVGSCsWhTEDRZInOMEjzjLDEWb4WxROsTDYhMMRBlhv4oE/RHmqIv0hT9kebojzLDgMiSoUng7DkWAaxHZIHeWAv0x9ugM8qMnZ9krIRASsDsFJmjO8YK7ZFmaIuyECSyQkeMDTpjbdEZa8fqjrdDd7w9ehIcfiV79CbYoyvaEt0iS3RHW6BTZIGOaCu0R9mgOcoKzVE2aI2wQGuEFasl0gpN4RaoCxV2UNJZH2GJxkhbNEfboiXagc+GSCvUhJkzTAmW5VTyJID6mqDU11AApbf+R1B6GDIsCZJFHvoodNNHobsen5UBFsJISIg16kKsUB1swS6RQFvgro9CDyPkORsg39WIdc9Bi50qjbZkmtGd520ebck0l0OysRQyLRU4vKAnyQcdCd6oi3BCvcgNlaEOKAqwRnGwHWrivdGRHY7+glhUJfijMNwVmb7WSPOyQIaXJTK8rXkeM9XLHnEutBrMCj4mBohwcUBxchwG6qqwPNyNuf42TA/0c/LPwug4Fsdpd+YC5ibmIR6ZhHh0GhMT85iaXWZoUmm2o3cc1Q29KK/uQlV9P1p7xzEwtsBfszC3iOWZKSyPj2JtUoyd+UlszU5iaWyEF1iP9fVgfKCPV4oROCkUYWZ0mHdz0mLrwc52DHS2c6MQ5dJK7jRpdpNcJr0mcM5PTPBKMYIn5dTS3Sbt3qTGIAp7Pw1OgiaVbEkESgInnf8r4CRYUjOSRATQzw4HY0A6GiJoivCWGkhag/DkoTsW8izw7KEHA3G3O4JPAuTPzYF43RKMt22h2O+NZLAeDcfjaCQBR6O0liqeXSr9XPp5XOLrCGG3SvdjgsI55Hu/LxysU9AkeB700EorChcPF547heH79y2+2G31w3477YmkdVfBPBtI84GUgUqf02eH9L0E5s5g7HfQ9wbifWsA3rUQiAP4Nb130B3B2usMw7u2YPAvAq0h/N/2ti2MQUgQZLWG4WVbGF63hx8rEm/bI1jv2iMg0fuOSOy2R2KvI4rf49edUdjrEmG3S4T3nVEMUf7ezki8lej4Z9H7BFhBUXjZFsF63SHC6+4YvOqKxsuOGLzqjGW97YrD63+nnni86U3Aq+44vOyKxc/t0fixNQovmiPwXWMYvm0IZfA+fuCHzTIPrJe4MWCp7FsfoMzQHEw2xVyBK5aK3TCdY4exVBMs3LPmqsLjchdsF1phJdsIaznGvJx6654Z5hK00O1L93RX0eNzE4OB0hgOlsVAgBR3kA4EyWA4XAGjkUpc1hwPVwXFy9FJaTmsUFWIQ4TkHCE9R4Vj5yiXlTTgr4BeH1kQICXQ7PdTAOkTeHrKod1VCk3Ot1ktbrJoc5dHq7scml0+PtP7zS4yaHKRZjU6S6HB6Q6anKRQb38LD62u4oHFFVaV5RVIRO9VmtOC6cvCaX4RFeYXUGFBC6fPo9Lq3IkqLM6CVG5+5kQlFucgUZHZGdw3/hJ5Rl8h3+QMCszOo9D8PIqsLqPM7hoqHG7ioasU6jzl0OgjrPtqDlBBk68yr/+i7tcHTtKosJNCmc1tlFrdQonlTZRY3kax1U2U2VKnrDyqXJXw0E1ZkIcKqt1V8dBDBTUearyBpM5TC3Xemqj3uYsGXx00+umikbpXAw1OOlmFbFndk1D1Cg91VHpSQ85dXhFWE6DLTrI53BiNYSZoCjdFs8gSbbE2aI+1Q2v0Mfxi7NB8rJZYR5BaYxzREmOHFpENuuIcjmXHZ0ecIzrinNGe4IL2BFd+rzvOCT3xzqDPuhKc0ZviicEMXwxl+mEwyw9D2QEYyQ3ESG4QhnMCMJDpi+40T3Qlu6M9keSJtgQ3tMa7oyXOBS0xrmiKcUJztMux3P7lbBI5o0nkikaRK5qj3dAa64a2WPp6JzRE2qMm1BpVNCYS4sCqDLRDhZ81u8gSDwOGJc1/ppnJIF7/JkMz31kLFGbQHuuOznhP9KT4oyHaHYW+Fsh0MUSuFzlOJzwQeeJhvC8rL9Qd2YHOyPBzQKa/I3IC3XAv2AO5IZ7IDfZGpIM1/EyNkB4QgAfpaegoL8N8fx+WR4Y4Nm9meBTz4knMiacxK57F7MQiJscXIRYvQDy+jLHJFYxOrmBgdB6tPeOorO1BfmkzSh50oL51DF2DM+gfmsHQ0ATfgW6vLGNtapzvRrdmx7EyOYqZwX6Ie7sw0tMFAqTgOMdAK8Ymhyk6rx1DXR0n4CTHSavFKHqPxk9o/yZ11BJACZ4E1UUOhh/jfFpJuDvdb9JqMSrVEhzJcRIw6SQRRNllHjcH/c88U0cu3ZkSjClUgU7SZwRMAtzBQAze90TiVXsIXjT6YbXIFoPxWqAy6+u2EHaR5CgJnNQk8rzKAz/W++FlWyAIqvRzGJgEztEE/pm7vVH4qSWQf973Dd480vCqNZDh9Lo1AKz2QLwmSV6fnH540+qHw95jiHYGYa+doOd3As7DziDe53jYSVFwwThoC8Buiy8OCJzdocLaqu4wHrw/6AjBfnsw9trp5wTxM7132BnOOugIw/uWILxuDuDGl7etQXjTEow3rSF40xr68WwXnCS5SVZrGF63hOJVcwheN4XgTXMo3raEneh9WwTetYafvH7TGobdTnLvcTgaSsLRMCkZR0OJn+hwkP4Mk1gHAwk4GEjCwXAKjsTpOBrNxOFoBp9H4kyc1uFYJo7GaTm1IFpY/YHmPWkHp0RTeUK37lgW9gZScDicjvd9SXjTLYD2TW8iWiPpN+Pb+KE9Fh+m8vF+KBXfNoXjSW0A/zsdjSbjcDCO14NJcmf3Wv2x1+zHJduFJG1QWXYuTgMbGQY8BvIs3xJPC6y4w5buOZ8WWXPjDjXvbGdTx6sZNjNM+aRmHklDz0aaKTbTLVh0V7mabIL5WL2TzFa6Z6T81qlIbRY9SxJ2aNnzcKAq+qmr1EcJ7R4KDE6CJz0TKAmS9Y63Uedwi1VrfxM1djdQbXsddXY3UWJ0HtnqnyNN6Q/IVP0zcjQ+R5b6n5Cu/EcWvc9S/j3SlP8DqUq/Q4rysVR+i5RjJSv/Biyl3yJJ6TdIUvwNYhX/K+IUf4s4pd8gTum3iFX8DaIVfosYxd8hVuX3SNL8M5K0/oJk3S+QZvAVMoy+RrbJeeSYX8Q9yyvIt7mGPItvkG1yEZn655B692skqf8Nccp/QYzSXyBS+BNE8n+GSOEviFX+AgmaZ5Cscx4puhf4TDW8AlKa0VWkG19Fpul1ZJvdRo75HeRaSOGepTTybeRQ6KCAEmcVFNN6LQdF5NnIItdKGnn2ssixkUG6+Q1kWUnhvoMc7tnLI9deBoUuKij30kSRhzoK3FRBOzCLvbRRRneM3ndR7KGNIl99FPsYoMjXACXk9vyMBPkbotTXANXB5qgJphEMU9SEWKA21JI3ftSF26I2wo4dZUOEDbtKcpZNUXZoiXVisHYmuaMj0Q2dyZ7oTvVGb7ov+jL8+OxK80ZXihfaCJrxXmhN8OCzJd4drXGeJ6/ps7Z4b/6MzvYEku/Ja3KDdREuqA13RE243SeqDndAVagDHoY6otjHAvfdjJDvZoBsuve0UuRxliQTaYRrXkGahSLqwmwxnBmMvrRA1ITaoyHKjUu0BE2KyrvvZ4eSUFfkBznjXoADsn1tkenngnRfV1ZGoAc3++SG+SE7xAeZQT683STc3hpNefcw09GB+d4+LA2PYG5gGMvjk5gem8K0eBoz4wuYGFuAeHQRE5ObmJzbgXj6EfrFK+gcmENDuxjlNT24V9SAnIIGVNT0obNvEeKJNYyIFzHQL8bK/DIer60eg3OMu2rnRwd4K8pgVxvDkUqyNIKyMj3BeznF/ZQ3S7OYjehtbUZvWwtGerv5npNGUziXdnDwBJ6UV0vgpBCGtfnZk20oBE1ymxsLiye5tATK047zNDglZdv/ETx/DU4JPD87Eiceu8RE7A/E4l1PFH5qDcZmqTNGk/SwXeGG3d5oHA7E8fmuMwJrhfYQJ+ljOsMEq8V27E5/ag3C+14RjkYScTRGf8Enc0cmdWXu9QlQJjDTneq7zlAuBVMZmJ5P621nMN51BJ1orysYu51BeNfuj7fNPnjT7MV61+qD920EScpO9WPttvjgbaMXw5N3PnYRGEMYqnvtgULZt8Uf71v82XESQMmVHvZGsKg8vN8Vyg50vyfio0PuoaXOJCo/C+dhfwxI+z0x2O+OZjdJ50FPzL/osDcWh73xrAM6+xJwOJCIIwIhwXNIcgqglACTToIqddYyNMfScTSRw6LRlNNjK8IzjbEca+oePkg0fQqc03k4mryHfYKmOIuBSF2+7wZT8KY/CW8HkvGqNwG1wSrIsLqEtQd+2B3Jwqu+ZDyuD8bWA2/s9sbhsD8W76nsXOeF7x644EWVG3566M7QXM00xFikMsQRSpiP1+S5ScnIyA/ljvip0hk/lDvjWaEtHmWZswic1PBDzT6Sxh96j5p7JNrKJLgKIpASQKmRZznZFOup5thIs+BzLcUMq8mmWEkywUKcMRZijTAdbYDxCB0OBZCUZ+nsD1BDn78qev1U0EONNdSF6q2ITi8FdHgSXOVY9Hz6vVZ3aTS7SKHNXQatbtJcBm45HhERxkZuosHpOuqdrwpyuoZ6p2uoc7yKOkfhrHW4ikrHq6hyuM5nud1VFFtdQoHFReSbX8B9gqPFRdwzv4RcC0E5FpeQbX75WFeQa3UN9yyuIdf8KnJNryLb+BtkGFxGqu4FpGidRbLmGSRpnEWCxlkkap9Hss5FJOldQoLOBcRrn0OEypeIVP0KUWpfI1rjLGK1ziP+7kUk6FxCou5lxGieE6R1HrHaFxCjcxGxOpd4xyTtmUwwvIJYvcsQ3T3PZ7LJdSQYX0Oc0RWkWNxGktlNxBhcRajmOQSofA0/5a9OTj/Fr+Cu9CU8FL+Gm8JXfHoqnYGX4hl4KnwJL9o5qfAlfOS/hI/il/BVou8/A3+VswhQOc8KUj+PANoYQuHnGhcRpH4BPspn4aN8Bn6q5xGocQmBmlcQcvc6IvRvI8pQCiIjaUQay0BkJIMIejaQQbih1MkZZSh7/LkcREZyEBnKI9pYHtFGCogxUUCMseLJGWkkj1A9aQRo3YC/+hUEal5FmO4t/tnRpoqINVdBuIEsArRuwk3uLFxuf4EglUuI1ZeCSPsa0q2VOfWnLcYNXQmS8qwLKgLtkO6ohzhLdSTb66I4xAX1yaEoj/ZFpo8t0jytkOVrdwxNN6QHeCE7zB85kSHICg9CcoA34jydUJogQl9FCUbqHmKxtwero2IsDouxND4Lcc8wJsbnGJizM5uYnHqEwdF1TMx/h5nVn9A/8Rj1nTMorx9GXnkncoqbkV3QiILSdjS2TWJ4bAdLK8+xML+NcTEtol7Bo8VFHl+h2c+FkT5MD/ZwVm1/ezOGuimgYJBHUNZmpzjvloDaXF2J5uoqtNfXoqOxnuHZ09GK3s42DPX28uymJPiAXCeBk6C5tbzI68MImCRym5JA99OBB7+GowSa/zMnpQ6R4yQXK3GbguMcTxIgR6AbkcBTBOqspKaW7+v9wO5nIA57fbF43x2FzWJnjKcacvPKWokjdqo88KIpAG+6IrFHQBlKwOFQPIOYTnqPoLpHd539wsnP9F5P1Il2qQFJop5Q7HWHYrcrhMH5ts0fr1so8k0A59sWbwGc1M3Z4Y/9dj8u074hcJJTpVItL0oOY/cpKdkSQPc7gvmOlSApuWul3ZB038plYjp7I7HXE8EnPdPd72nR3bDQSEUl7jgcDsTjsP+UBgiOCcJ7Awk4GqJfJMhZCnAU3GYyDkdSGZwMxqEUBuThIMEy6QSYe8OUHZuMA3EGO0UJPIUz+wSmhwTVSVpS/VH7x890UrjC7kQOdsey8X78+BxJx/uRTGE0Zygde2IKUshEbwrlXcqgP8Majxsj8GYwDT93xeNZXTB+bDq+u20Oxo/Vnvi2wgU/VLvjRaUL1nNNMJOgiQmR0PyzmWmI5wW0jUSYq/y+1B4EzxdlTnheZIdn9615rIRmLIUOWQk8BZASPLezrRiu5EAJtMJrS2ymm2EzywpbWTbYybHFTo4dn9vZBGRrbGUKWkuxwGKiCebjjTGXYIzZOGNMxxhiIkoP41E6GIvQwWi4FkZCtTgQfYgi7WiLCIWoB6rwe/R1k9HC14sjKANWE2ORQnft2PFeTFooPRJGUXcaGApRxQDtwwykEAMFVo+/Akidfgp8l0lni78iWv0U+Wz2U0KDtzxq3GW4JFvpIoVy5zsocb6NYsdbKLCnTtHruGd7AznW15BtdRU5FteQY3EduZY3kGd9B/m2Uii0kWEVWMsin1ygpTS7yEyTW0gzvIYkvcuI0z6PGM2zCFT8K49BBCv/DeEqXyNc/SxEGhcQpXkBIq1LiNA4h3C1cwhV/RrBKmcQqnaG81QjtC9yTJxIl3ZGXkS41lk+o/UvgzZ+kGKMrkFkcAWhWhfgq/Ql3GU+h5PUH+By509wlv4TXKX+DGfZL+Ak81c4Sn8OR6k/wUn6z3C68yc43v4j7G/+HvbX/4PlcOP3IDne/D2cbnyU450/w+7mH2DOdohSAAAgAElEQVR/649wvC08m1/+DUwu/BeYX/otrK/+B2yu/RE2N/8Mu9ufw+HO3+Ag/RUcZUhfw5VgJnsGzjJfw0n6q4+S/Vp4T/YMXGTPwkX+HNzkz8NN8QLcFS6cnE5y52F3+ytYXPszzC7/HpbX/gAHqS/grnAeXqqX4aN+FR7Kl2Av9SV/bnr+dwzPyLu3kGaugko/cwxnhmIqPwY9yQGoDnVEoZc5Mpz0EW+lhWhzNd5gUhbphbqUMFTEBCDTzxnJHrZI8bRDgqcDkrydkejjihhPF0R5uiDe3wuZkcEoSIjEcG0ZtkZ7sDrQiaX+LqyPjbLTXBqfx9TwFJdjR8dXMT3/FBOzz9A/toOh2RcYnP0BdV3LyKkYQGpBG1LutyC3tBMVNSNo7ZrH6MQTLC7/jO2tn7G1/j1W5zawvrCKddpoQhF7kyOYHe7BWB8l+jSju7UBg13tDE5aZE2Oc3ZoAD0tDagpK0JteSkaqyrRXPMQrXU1aKqrRnd7Cwa6uxmeBE4q10oc5/rCHHbWVhiU5DIJmrSwmqBGoJPE7BEcJaVWOk/DkuB6+vW/e6avkcCTvl+iz2gGkt0hucSxFOwPJ2B3gO7FIvGiMZjn+cj57A/EgUqGBMW3nSJ+/11XNH7uDMdLmgXsFeFdXxze9cfgbW8sv6b36DMabaDZQALowWAci4B6NERAOaXhOL4b5bLvUCyOhmIZnORAqZRLOak/NXji50ZPvGr2xptWX7zrDMDbDn+8affDyxZv/Njogdd0B9odwmXe/WMA09A+/Zw3pPZgdrzsdKkBqTeCO4vpJEfMrriXAs7D8K43nPW2PwKn9W4gEqT3g3H8Z3YwkohDClQfSRQ0TFBM+UQHoyk4FKfhQJyGQ3KP4xlCmVVSeh3JEEqwIxk4GE3FwUg69ofTsDucytoXZ+JwnAIRBB1N5OJgPBsH4zk4PE4c4uShqXvYl2g6DwekmfvYn/qog+l8HM4U8NfR7KqQWETONB8fZgqx3RSBkVxHNFHCzH0XvB/OwofpfLwfSMa3dUHc3ETNTm+bgvBjtTde1vvg2zInzCXrYjpOC6vpBlyWfV3lwmMo72o88bLShZ3mzw/c8LLKHXQSUJ8XEDwJlBbCzGaOOZ+SwAIq4VJwgVDGpbQfM+685ZCCVBOsppnhYzmXnmn0hDpyTbCSRB24hpiJ0cNcnAG707U0S6ykWWApxRwLKSaYTzLBbKIhpuMMMRmri4kYHYyJtCGO0uKTmneGwtQxGKIqKFQVQ2FqgoJVeJE0xeIN0PLoYxEsaYykzUeG1eotDRKPkNAYiac0mjxlUOcpy6r3kkM9xdx5yqHaQxYPPWTxwFMOFe4yKHOVQYmzFAqdpFDgeAf37G8hx/Ymsm1uIMfqBnItb+Ge9W3k2UijwE4OJY5KKHNWQbmLGp8ljso8mpFpSnODV9g5ijTOIlLtaw4Uj1A/zzmp0ZRWo3OFZw3j9a8jweAWEg1v8kmvYw1uIs7whiAj4Yw3vo5Yw+uIM7qGeOObiCW3aXwT8Sa3EGt6C/HmdxBregcxJrcRY3wbMaa3EW8mjXgLGSSYy/EZayaFaPr8WLFGtxBtcAMi/euI0LmKSN1rvBGEtoJIRMudaclziO4NBN29hkDtqwjWvgZ/zW/gpXIensrnTp0X4alCugRPlcvwULkMd+VLcFf+hqHmrnQRrgrnGY4ESJaCAElXAqXSRf56L9Vv4KV2Bd5qV05OB/nzsL3zFSxv/IXhaX3zc4aym+J5eKhegoviObgpX4CD7FewufVXON75Eh5y5xBnpICaYAcMpgdjIC0Ew1nhaBZ5oMjLHIkW6gjQuo1YCw0UBzmjLNwDhWHuyA1wRnaAK7KD3JHh74I0Xyck+zoiyccJkW528LU1g6+DJZLC/NFQkoep7gYs9rdgbbQdz+ZG8GhyCGvjI1gUiyHuH8Xc+CKGJzYwNL6J4cnH6J94io6RHbQOPUF19wbyaiaRmN+FxLw25JT1o659AcMTz7G0/hY7Tw7x+PEhnmy/wvba99ha2sbGPJVpp3iEZWl8EDND3RjuamU4djTVor+jFVSqFRqDhjHW3clOs7IwH1UlhaitKEVDVSXqH1SguqIC3W1tJ3ec5DQl3bU0mkLZtZQqRE6QXCZBk8qoBDYCnUT0mj6TuFF6XwJIguL/X312IE4B/YV+NE5/kafzM7mf/RFhCP+AXNJoOugkJ/S+Px57fQnsiN73xOHdQALe9sbhdW8sn296hOaV193RDFL6egIxAeVoNBVH4hQcjVAJkkqVn97rCfd8p0BK96bUvEQutZu6UoPwlhp82gPYhRIc9/vCsNcbit2eELztDMSrNj+8p/vNgSgcDUXjoD+CnSM5WS4Rd4Vyw9K77jC+090lFzwQg71+Ed73RuItNUFxok4kXh+fb/uiOPScgs9JbwdEJ3pPTVWS8vQYgTEZB6NJOBSn4mgsjc/DsVQcjacxKCmUgbQvTsMewZFgOJrJbpLuLffpz5qAOSqIEoF2h9PwfjgNB2NZ7C4JkqSjyfvH5z0cTB6LQZnPoCQwHs7m42iWYg6LWR/mivg1vUei1wRR+pxOBup0Ed6J7+FJWywqAlTRKNLH990J/DVH4zlCV2+VNw56Y/GuORgvqjzxQ7UHtvKsMByhhLEoVezkWeDVQzee36QZztdVbpzk86zQmp3m96WOIFE4AjlSisKjU/JM6UCPc80/0Xa26QlQ6ZlgukH3ouxCCbqWLHKlfF+aTiVbY6xwwIEhhx+spJpiLd0cq8daTDXBfLIRZhMNMB2vh8lYHYxH34VYpIHRKHWMRKphOEIVQ+EfNRimgsFQZQyEUI6sEMAuyZM9Dc5OHxm0+5JkWW3ecmjxlkOzl+yJBGDKMTBrGZgyeOAuw8CsdJdHhbscytzkUOIqg2IXGRQ4S7PuO0shz0kK+XbSuG8rg3vWUnzvSIP/dBdZ5qqOSndNlLtpoMRZFfl2irxcmeLdyE1GaJxhUZj4SS6qwQ1uUkkxkeKmFdrCkWgixVmp8Ua3QUowkeIIuGRzKUiUaHobyRbSSDKXYmgSKBMspBFjeoeBSGCMs5JFkrUiEm2U+IyzlEe8uQLizD9+nQSccca3QfAUGd5EtNEdVpyRFEiUpBNjcJM3hdA+yhC9WwjVv41gvRsMzwCtK3wSSEkBWoL8NK/BR10AnofKFbiqfMMiKJKLlIDTmcCpcB4ETDeliww/Aq2X+jfwVr8KH82r8NW8Dl+ta3zaynwFqztfMDgtb/6F4UiO1kn+DJwVzsJZ6TycFM/BRYUAfAFeype4zFvmZ4WWaE/0JAWgPyUY9eEuKPK0QKqNNkJ15RBlooJkewPk+dmjPMoHxRHe7DDj3ayR5O2EFF8XpPi6ItnfCYk+Toj2ckK0rxvSRaGoLbqHse5mrE8MYHtmEBtjnXg02Yed2VGsToxibnQMkyNTGB6cwsDEFvrGttAxtInm/g00DOygon0NOQ+nkVo6itSSIWSWD6OqdQGjsz9i6+nf8ePLf+Knl//E8+d/x+ONn7Cx9Aybi4+wPrOMlYkJrIyPYkEsgHOwsxldTXVoaajlgIOxgT4eQ5ka6sdgazPqKspQdv8eHhQXoLqshMFZW1GGypIS9LS3n3TT0miKJEWIZjwpBJ6zbNc32GWeLtFKXCJBksC6NjfPwQgETwLp/yo4JV9/uuT7Gf3lTRFt7ILEafxMLmdvhNxnGvZHUnAwJJz7g6nYHUriZJu3/fF415uIV73xQtdmTxyflHBDroRLiwRKclbc0ELuK/UTB0aOjMuXBOcT0Z2fANTDQYkrpTu1GB6HIYBSCZfKqgzH4WgcDdFIDZVSI7DXG8ag5PlTcq0M3hgeh+HO4O4ILjdT4xLd3dK9rkTkiN/1R3MMHcXPcQTdQDQoAF0iSSi6JMHoQEy7K0m0VST1X0R/rgdj6QxLBuY4lUMzTrQvzsLBaBb2GJoZn5z0HgHz/XA6dkezGJIUz3c0XcCu8MNsyfFZxACUwPGX+VJ+/WGuBB8WS3C0QNm4xf+iw5kiHMwJ778fzwO/ni7k85fFcrwazsaDIA2U+ihjuymKk4/Ikf7YHI5n1b7Yp1+cmoPxc60vtvKtMZesh4EQeSyn6+OnSifsNnjjoMkX72rcQVmx3xba4Hm+FZ7dt+QSLcXgUfbsd4VW+L7I+hN9W2AphB8U2vBJ3yfRs/tWQqIQwTPHjCVJEnqaR6VeS+xkm+NRpjk20+n+0/gkYk8yJ7qSaoTlFEMsphhhPskAM/G6mIq9i3GRBsSRahgJV8FQqBKGw5T5HAxTAitUEQOU9hOigP5geQwEkhRP1BdIZVn5k+CCE2j6yqLVRw5N3oIaveRBavBWOHGZ5DSr3GVR6SaNMlcplLvKotxNlqFZ6CKNIldZFLjKgKHpLIN8VzkUOCkg31H++FTEfQcFFDooochZBYX2ysh3UEa2lSx4iTK5RN0rvL6KNnDE6l1BgjFt37jFOx9TzKWRbiWPTBtFZFgrIM1KnsPFk81lGZjxxrePoSmDVEs5VoqlDNKs5ZBmLY8US1kkkixkGYgiU2lEkfO0kIPIjO4VpRFrqYBYCwVEmkjz/WKUiRQiDW+xogxuIFL/OsJ0riJc9zrC9W7xXSPdP5KiDKURZXAHkTrXEXn3KqLuXkWQ3m0E3r2JAO1rCNK5IThQnevsPulek1xokNY1+Gl8BKen6lW4qV6Bq/IVuKsIcHRVOg9HuTOwlz8DR4WzJ7BzVb0AN7VLcFcnXYaP5hX4aRM4r8Jb4wp/na3sV7CT/hJ20l/A5s7ncJD9Ek6KZ+GocAZOSmfhonweHuqX+fuizZXwINge7Yl+qItwR32oM+pDXVHiZYlEMw1E6isg3kKT92Vme1oh28cWxeEeuBfihng3K078EblYIcbVFgleLojzcURSgDuyRCF4kJuJwdYmdnw0BrI2MYQVcS/WxD1YG+/Hytgg5kZHMTk0gdGhOYwMLaJr5BHahrbQ1LeJ6o41VHZs4l7NPOLuDyK9fBLFTctoHnqO4fnXWN4+wvMX/8Sr1//Emzf/D77/9j/xeONnLE5tYX58EWvTS9icneW5TWoKopD3/vZGtNU9RH11JbqaGzHa14NJmsHsaEPLg0pUFNwHOc7KogJUlRShprwUNeXlKCss5DLt8twCVheWsLG8is2VNT4frW0wNB/RiMjKBh4trWFrcRWPVzfxfHOHRe9vzC9jc2GFz8nBUSxPzeHZxjaerG3h263H/HX/znFK3CqdBEvJLCh16Eoajj7bpb+wxZknor+s90bSscuuJwNH49ks7tYUC86IHBE5IQIrOSZ2TZJuTnJF7KIy2DlRyZHhOyzc31Gjy2mRixWaY6hBJuWkk1S4V40HdW+yRqjL9BigFMpAIzRU2qXRl+PxF4k7PeyjZiYq9VIjTjQOe6mBR4S9rii874pk7VLpuDv64/0kd7EKpWgqRwtu+Lj0Sm6bXCT9EnHsJslZCq5SKHGTu5S4djo/TGTgw0TmsbLwYULImhWaeuguUtCHScqm/XU+rdAARKVYEsX0kcPkfNvZIjAwCZpzZQIgZ0uO3WQpCJqndThfwnCUQPFguhD7U1SipRjBfLydyMPuxH28HsnGW3Eun29GcziA/uVQFtoTTFEbpoPFSn+87E3Gh7lCHIkzuLnpsD8Bh12ReFnnh/k0A4hFqpiO1+Bu2YMWf6Hhirqu66hMS+Hrzhy9R+5TKNHa4rsiS14/9qLEGj+U2oBOEr1PQCURRJ/nW5yIwPvkHpVzhfD47XsUv2eBpzQ+dd+ST3Kr21lm2MowwUYahSoYckYtnaSVNH0spxpgIVkP8wm6mInXxmSMBsZFahBHqmAknKCpCIrEY4UqYPBY9MsBqT9YjsHZHyDH679oBdivwdnhJwdSm688q9lHHqQmbwVBvoo8WlLnrYB6HwXU+Sih1lsR1d5KqPFRwQMvJVR6KaLMU1CxhzzyXaRx30mGdc9OhqH5wEcbD/10UOKmhnwHReRYyyDF+CYSDa4xLGN0qAxLTTyXEKV9EbQDMt7gGpLNbiOZkmvM7yDNUhaZNgrIslVCho0i0q0VGI7J5DxNpRie5DIJmunWcgxZcpkET4ammTTiTKVADpOAGG54CxHGtxFmeBsxFvKItVRCtIUCCB6RJrIcDxdGIORnOUQYSZ2UXsP0byPCWA6BelII0pdlBerJIFhPCqF6txCmexPhujcRoHMTwbq3Eax7E0E611mhutdACtG+gmCtb7g5iBp3vKnUqiqUasl1UqmWgEmlVHKINuQc7/wVVlJfwFr6r7CV/Rvs5b8SAKh4Fi6KZ+GmfB6eapfgqX4BHsrn4aJ8Fk7yX8NZ4QzcVS7AVekcv6bvc1D4GjYyX/DP8L17DXHWqsh2N0JNlDvaEgJRF+GJfBczZNnqI9VKF+m2BshyNkWOuwVyvW2Q5+eAJFczZPrYI8XbHtEuloh0skCwrQn8rI0RZGeJeD8PFKfEo+vhA0z2dGNJPIatuTk8mp/H2uQklsdGWLR4mpzm9MgUxkcXMTK8isHBNS7Ntg3toL5nCxWt6yht3kBG+TTiC0ZQ1LSGkeUPmN3+B+a3/47FrQOsbu5je+cI33773/Bk5xCbqz9gefYxlqbWsDa7iq3ZBaxPTfE2FdqMMtjRija6s6yu4safwc4OjFDqT2M9aouLUJSThdK8eygngBYVoaqkhCWAs/cEmDsbtCXlEegkba+vs+uUgJPgeRqc9EwwXZ9bwtLkLEa6+zEnnsTT9UcsAuj28vr/sFR7GpqS8RYC6Gd74/dwQBmqE3l80vPBWC72x7JxMJb9sUuTA8clf6F/PIUuzuNw8uOAcoItlx3JuQ6l/ltJMloph1UiHrkYSMJ+fyL2+xNYPK7BYxuJIAdK3b3sPgeE2VMC5InIlfaIcNgdJagnBoddomNFYb8jimcrab6SZir3OmOw3xWLg+5YHPbECd2uBIMB+meR86XGHWrmkXS9ph47448nlbAlOnHQ5KRH0wSR2xZn4Yh+oSDRmMgEdcTmCn+2x8Hu1OlKcKT7SvqzJ1HXq3Dm4L04B3vj97E/WYD9yUIcTBeBtqyQq/xlvkyA5UI5PpzS0XwZDudKcXC8iUXYxlKE/SnK3L0PcpkESzoJnG9GcvByMBOvh7PxYbaUc3qnir3QEmOE7hRLPKoN5n9v/m+je9qBeLxuCMCjQjsMRapgKFwJO/mWeFntKnQ7dwThoMkbb2lpdYUj3lS5YrfWE+9rPPBzuSO+KyRQWrJ+KLXCj2XWLHqm978vtmLxRpQCc3x7rGf3CZSmHP4uZNuacfD7kzx6XyjvUr4tbz+hbSfphlhP1T/RWooeVlJ0sJykg/lEbd5wQmHzUzHq3NQk6QgeDVfEUIgci4IdWMfZspQvywqUB4GzN0D2WPLo8Zdjx0lxeRRoQOrwV0C7nwLafAU1+yiCRPOY5DpJTb6KaKCZTB8l1PvSSi411Pqro9pXFVXeBFFllHupoMRdEcVuCqwiFyUUuyrjgY8WKrw0kWsri3Sz20gxvsEdsGFqXyFS4yw/J+hfQbLJDaSZ30aGpRQyraSRZU2S5ZPyW7PtFJBjr4xsOyVk2ZLzlGegplrIgJRuJXMMV3nkkDO1kUemrQLSbRSQaiWHJEs5JFjKIsacwCiDWCtFhBreQZy1MuJt1BBCnazG8oixUEaclRoizFUQYiSPAL07DMUwQ1mQ/PVk4H1XGh53peGppwBvA2X46CnCT1+B4+QIppTJGnj3BjtNgmaozg2E6V1HhN41vhcNv3sFYXQPqnmJu2v91C7Bl0quagJA6c6SIah2ieFIsLSS+pyhaSPzOezkvoCDArnHr+Gi9FHuymfhoXKG71HdVc/CW0MAqavi13BXoqagS3BXPQdnxa/gqnKO3WqUhQIK/S1RI/JAQ4wvasO9UOrriEw7YySZ3UWi+V3kuFqg0N8ReT72SPewQqq7NUQORoi0N0aApS68Te/Cx1IfAbamiHR3REZ4EErT09Ff34D1iWlszy5hbXIRKxMLWJ1cBDUALYhnMT82i5nROUyMLEA8soLRkU309W+hs2sdNZ1rqOlcR3nTEgpqF1HUsIb7tasoqF9Hy+hLzD3+B7Z++Cc2vvsnVnY+YHH9PdY2d/H46RF2dvawuvwCywtPsTyzgaWpRSxNTGFtapIDEMh1DnW2cbcsgbO9Qdhi0t/ajpaHD1GZl4fi3Bw8KCpkp1lXWcl3mzWVVSBNjIiPIUnLrHfw9NETPrfXH2F7fZMd6M4qlWMFPV6neLxtFj0/WlnH5tIqVucWMTksxvLMPJ4/enyix2sUpSd8/bOtHfw7fbv9BN/tPMX3j599os8Op4txNPWpPkwV4nCqkOf3aIaPNnbQX+zsfo7/0qfuTWF7h+CKGJZjWccOVGhyYXgel3wlzS6ShhcuBxNUT4HzJNi8n0ZY6C41nh2h0LVKwIzlNCJKJBJGQ0Q46I7EYU8UpxIxMLsicdARjv32CNZBB70mRbEIngJAo7HXIWi/MwYHXbE47I77CNGeBBz2JOCg91Pt9SZgrzcJJ+fxv+fHf18BvJJfAo6G0kCiWUnSATcA0awl/VIi3FVKYEmgpJLsu+EMvB1Kx9uhDLwZTMfrgQy8HMzA60GCWy7eiQl65BhLcMiuk4BZgV8Whd2evN/zVwAliNJmFsk6M3KcDM+xPOxN5POd5u5YHsPz/VgefqHvny3FRl0EBjLtUBOsjrEcO7xoF0IYDgbjOQxiPc8KfaFUtpTDZLwGfqh0xJtaSUatE2fXvnpA673sGJ4E0J8ok7bEDi94qwl13H6EJsFTAs4XxRbsPCXgfJ5vBokk4HxEW1NYxtjJNmHRFpWtY2BupBkwMBmWSTpYTryLpQRtXv9FozLzcZq8Dow2mkxFqWIyUuVklIbASRCViJwoaTRCmR0plXNp4fQw3XWGKGIgWEkQNQoFC+qiJqEAhRNwtvspMjwF56l40hBETUHUHFTrpSDIW/kYnhqo8VPDQ++P8Kz0VIFED/20UOmtyfDMtZVGsvFVxFKnq8YZBCl9gUjNszw6km5+C7k2ssh3UkKxmxqKXFVR4KzMM5c0d0nKc1Bg5TooIcdekSGaZSsPUqaNHLJt5JBrR3Oawtfdt1fAPSdVVo6jCrIdVJBup4wUW2Uk2qggzkoZUWZy7LTSXPWQ5HAXwYYy7B7jbTWR6qiLaFsd+OvLw0PjBoIM5RBvq4UoC3V4aEnBUv4bOGrJwk1fBb5mOgi01EOwpS6CTTUQYKjI30fglDQGRejdAJV7o/SEZiKR7hVE3r3MTUShWpcF96l1GXQP6q95FX4aV7jkSuVXKqfayX154jCdlc8cQ+8CvDQusjxVz8Nd+Qw8aGRG5Sx8VM/BR+siAnWuwFfzMoPUW+0y/Ohna30Df52rCNS/iRhrZdzzNUO1yB11MT4o8XdCtrMVcp1skOtEpxVyXW1wz8MOOZ52SHO3RryjOaLsjBForgNPI3VYacjCVEUK9vrqiPBwRGlGEvobarA8No2dhXU8W3mEzelVzA/NYrpvGpP9sxjvm8X8xAZmJrYwPrbJDrOndwPtXZtobF1FVe0i7ldN4n7VDHIfzCC7chbFDZuo6/8BHRPv0T93gOHFQyw+/gfWvv0HNp79JzYef8DWkyM8+/bv2Hmyj8Wl77C0+AwLs1uYGZ3B9JAYy+PjXK5dGBnESGc7Ohvq0FJTjc6mJl7/RSvAmquqGJyVhQW84aStvh4dDc1oqq1HS30jOppbsTS7iGfbT/FobQtbq5snJz0TONmFrlFAwSYIlE82Hn0iyXsERwIofU4AlMCQgEjPEtHr/57+BZxHsxX4MFOBD7NlrCNyMdOlYKBOF+GInA3ti5y8z80o1H3JzohAerz+ihzUAe2MFGdwkwvd63HH6Dh1h1J5M1VokjnuKKU7VRLdo+4NJ2F3KJG1N0gbQRKwS52qNP7Sf3z/2E+ukkY+qLNXCGs4ASclF/VECuCUuE2GpwDMjwD9CM6DThH2j0WwlABTcJ4CMPd74kE66EliCbAkYJKSP54ngBccMrllgiaVoFnHwKQGIBa7TgGa9AvJ4VQeN/bQn+seu81c7I5m4+1IFuv1UAZeDWbi5WAWXg/n4s1oHt6NFeL9ZDH2pytwOF+JDwsP8GGxCr8sPcQvyw9YH5YqccQLsunzihMnykCcKz25z9yfyAeJoLk/lsfOlp7p//vBZAHejuRwyD2NpvQmmeBZUyh+7oji0SOKJRyNVkel3XmMRatxctBPVc54W+d+DEx7vK5ywJtKe7yusMOrcjv8XGqDH4tt8FOJLV6W2f8LNGkVmaRkS45TAk1ymU/zzE70OJcgSRtUPhUBcyvNEJupBlhP1sNGij6fa0m6WE3UwXK8FhZjNTEfq8Gai9HAbLQ6ZkRqvApsKlIFExHKvOFkLEwJp0X5shJQCoumBVj2BynyvSbdbbIo1ShAGD2RgJNHUPw+us5WH3mQGsltesmj3lNOOAmcHnKo8VRELcGTAtR91VDjo8rwfOCpjHJym47UQUtxbVLINLuOSPW/wV/2DwhS+hwRGl8hUvNrRN89zyDNtLzDQQUFTkoocVNBuacGyjzUUOSiwmVeyT1pvqMiSARQgiNB8rTu2cohjwB7rHw7eQYsO1R7JWTaKSHNVgnJNkpIIIdprcIukyDpe/cmN+M4KV2Cq+pVeGndhK30WZjd+hqW0mfhqHgZgfpySLAXYOqlIw9LhevQvnEeRgq3YKejCmcDTdioy8JQ6iKMbnwNC6lz8NO4zHeh1EQk0r/BkIzQvoQY3W/4DpdOKkvTe9SFG6Z9GSHa3yBIWyjh0l0liUqwjnJCedVZ6RxD00P9Ijw1LrGj9Na4AG/18/BWPQcv5bPwVjnLc6J+WhcZotTFG6DxDTtaJ5kv4aZ4jn9pyKGc2/OVQeIAACAASURBVFAbVIQ74UGEO2pFfijycUaqjTnSbayR6WSHfC9XFPl5ItfLBamutkh0tkK0gwVCbYzhY6YLVyMtWGkrwVJbBX6OVihMTcRwRyu2ZqfwaGkLq1PLmBuexuzALOYHF7EwtIzZ4TVMDq9jYfY7TE1/j8HRp2jqWseD+gWUVs2joGwaecVTyCydZOVWzaOofgMP2p+jc3wPI0v/ib7ZfQwtHGB++x9YffYPrD/9Ozae/oJHz37Bk+/+jq2dfcwtPsfC4jMszj/CzNgspofHuEFofWoCBM7hjjYGZ1tdLXpaWnln5kB7N9pr61FVWIyHJaW8T5Og2tXUiua6BrQ2tKC7rQvLc0t4tvMMj9Z3sLm8xVpf3MDGEoHzEZ5sPT4p3VIZ99d6srUN0vOdJ3j6aIfPbx8//eSZXpO+e/LsRN8/fQ6JJJ//+vzscKYSEh1Nl0Oiw+kSHEwVnQCU4CkA9FQHJ4OTyrY0S0gjEnQnSkrjjlK69xPAKXTu8rM45SM0GZwJDE9aCbY7FM/QlIBT0rRDpwSckpQjCThpxpJCCShHl7JwWeRAuyJPSrSHXfSaSrbROOiKxmH3x5ACLtH2xOEkmIBKtf1JOOhPwn5fIg4HUgUNpuJwMBX7/Z+KYH9akrACns+kcq0k2ef4rvikTEslWhr9mC0QNJOPI9rLSX/OE3nYn8jj0ixB7D3BUnwfu2NF2J0oxu5EKUPzaK4Kh0vV+LBYjaPlh/iwUn1KDyCBJwH0aPFjGZdKu9QsRPeeH6aKcDQprD8jcO5RSVicg3ejuXgznM1l4JWHQajwVUJz5F2slLnzfy+NGFGQfbPXTVTYnuXIvTd1HnhV7YK9ene8q6X7TCe8e+iANw/s8LrS9gSgL8tsGaA/l9LOTqE8K5yfQlMCTrrfPA1NidskcJLL5D2dDFBjbGcY41G6EYOToEkiiNJJ8FxJuIulOC0sxGmy/h04J8NVhNVg4coYDpLHSLCioCDqolXgRiC+z2RACqVZ2mTC8pFFl4+wzYQ2mnQHKrLj7PJX5PlNoVwrQJPA2UTl2lPwrPOkOU5ZPHSXRS3txfRR4UXRvCTaVw1VnsoocpBClvkVJOmdQYT6XxEg/x9wuvJ/w+Hi/wV/hT8gweAycmyk2IVSkg+BUQLHQmdFfp/Ku/zsJI9iJ3kUOX5sNKIGo3sOsuxCc+ykufxLd6m0bYRGXkjUxUuiMi+t56IyboqFrHDXaSGPeCslxFurIcVRG3E2GnBSvMig9NS4CTe1azC7+TfI/Mf/jlv/9X+D7oU/wFH+IugOM9HhLlJdjBBuoQk3HUVoXT8HfdkbsFBTgImSDBTPf45vfvd/4vrv/g8o/u2/wFv5POJMZZBuowiR3nUEqZzh5qc43cuI172IGJ0LiNa+gCjt8zxnGnH3EsMzWOsygjSpYUcAJ91P/hqcdI9JZVgfjUvw1bwIf81LCNC8BH+1C6wgtYvw17oIPwpdIPdJnbPyZ+Ei8xWC7t5AmpMOamNcUZ/ojQcRrij0d0CBjwNyXeyRbmOLdGt7ZLq6IM/bC4X+fsjz8UKquyNiHKwQZmuKACtjeFsYwNPSCK7mBvB1sEJmXBR6G+uxNjuNJ6urWJxegrhfjIHWAYx1jWNpZAVr44+wNL6DmbGnmJp8gf6R56jv2kRRzTwySyaQen8U6ffFyC6cQG7lAnIq5lHc8Aj1fS/ROPAa7eI9DC0I4BxZOsLCjgDO1Wf/DevPfsHW81+w890vWNvZxfTiM8wtPsPS0g6WZtewPLWA9elprIyPcw5uf3MTOmtr0VHXwG6T7hpJXQ1NqC0tR01ZOdrrmthtkuNsrBHA2dvRg4XpeTzb+RaPt57i8cYTbK/tMDQl4KTyreTu878HTQInQZP0bPsxQ5JAelq/huJpiEo+o6+XPNP52cHMA5D2px/ggBwMg7QcB9Nl2J+iEYUiBujBVCFYxyMLkjlBWk5NOpogUUMMjbWcHsugJhpB1Fgj6UDlMRiGKIEzAXsj8dgdjsPuYOwpxfCoCI2LnDjN42dJGMHeQAR2+yN5DpO2vJwk+0ggyid15MYKOuVe2cEOxoPKjiThXlNI66GRHIkIglRiFkRNTx+1P0qLo5N5fIdGeAR3TXOaQvQdLaDmXyzojphKs1T2JkBKoDlHIyGFpwBayF2zgtMXSuYHE4XYnyQHWIr9KVI5DmYq8WG+Bkcr9fiwXIe/r9ef6Je1OnxYFWB6tCw4TwInlWsl954n4JwuxofJQnyg0RbJ/bY4B+9HBNG96oueZAxl2KDCRw71wSo8kvRDcxAqXa+h2uki+sMU8ONDFxy0B3GZltaJva2hMq0j3j20w9tKO7ypsMXbSnvW6zLBeZL7JIhKRK9J5EbJlf5AnbYFlvjuvhWe37M40bNcczzNMcPjLJOTXZ2Ps0yxk2nC2s4wwXa6MR6lGmEzxRBbqYLoWXCd2gzP5Xhtdp8LMRqYE2lgNkodM5FqmI5QBcFzIpxONUyGq/PeTYryo/2bkji/sVANjISrYjhMFUOhKhgMUcZgsAqLAtv7KQAhgNyoIiTg7PBVOAlxp/EUahKi7lpynKRad1lUu8owPOs8ldDop4bmAHW0BmmD4FntqYwSBylkGl9CnObfEKr0B4Qo/hGRGn9Fov55ZFteR6mLIqq8NVDhoYoKdxWUuSnzewRIUomzAr+ms9hJ7kQET1KhgzzuO8gI8Xl2UjzuIhl7ybMhYN7m2dEci5vIoGYhs9vclUsNREnm0sJ8ppUSEm01+C4zxUkXub4WKA5xQlGwI6KttGEjcx56l/4E3bO/g6viJYQbySHeWh0ZLvrIdDVEvKMBYuwNEeFoikA7E3iY6cFSXR6aV7+C3Be/gcrXv4XB1c/Z9dGYCnX+0ownBTQQKBP1LnM6UpzOeZBi756HSEuAZ7j2RYRqXRLuPrkj9waPndD4CDX3EETp7tNb4xvBbapf5FIsl4TvXmHgEjSD1S4i0pDKw7cQevcqfFUuIEjjKtLstFD2/1L3Vs1x7dmWb32L+94R99zo7lOnT8GuzVRmWbLQYrRYKYYUMzMzSylmRouZKcUs2zKLJXtXd4+OOZcyLe/aderlPpx+GPFfuVZKluUI/3LSmN4WKAu0g8TfmqPNIj9bJNkZwV9LBf6P1RFnYoF0a0eku7gh080dGWIxEhwdEG5jhUBzU3ibGkH8xICh6WZlAm9HESIDfLkDdaTnKVbnZ7G+uIiRoQn0dQ+gr6MP0wPT2Jrdwu7iM6zMHGBq9ABNbUuQ1M0iRTKOmLxBRGQOIDpzEEl548gunkNu9SqKGnZQ1v4CjYOnaB06Z3A+nfqAp1OX6J05w/T63zjilO79DdK9j1g7+Bs2nv8N0q1zTMwfMDxn5jYxP7uCxal5jjgne3sw0NyE5vIyNJSUoKmiCk+b2jDY2YOhrl50NzWjvrQc9eUUibZwtNle34LGmga0Nbair7MP85ML2F7fZRFAN1e3P4FTuonN5a1/GGXKok0CpgyeMnASGAl+9PrXQJTB8bfgefPZ7y6mynE+WcbwJIBeTgm6mCzm/6RpgTM1k1BTigycwiC9MGR/OZ4C1ii52hA441mXIzSKEoerUUF0zTOO1+MbstGNs0EBmn8PzjCc0ChJXzjObxjRy7x1aaMLOfec9AWxTnuCQaJ79Iy2slz20jiKIG4sko+3kBF9tCCCOnXKDsoclIT5Sx6joVGaaxEIBaXgYlgQ1SnPKarmjlpKTwspau6mJUu8ceqETQf7xU5l4Yo0ncP6MJOLD7N5+DDzSQzQ6Xxc3eycnSjA5XgBOIU+KZH/+xA0P8xX48NSLT5K6/BxpRYfV6/P5Rp8kFYyPK8WSyHAs5ijzr8D51guLkdzcDmahcvh68awoTScDFKDGEXF+XjRFYfZImdU+yohw/IrSIvseS1agu5/RZ3Tt9jKNccpuTW1+eJdlR2nad+WW+GkUoTjCiscl1niqNSK9U5iibfFFpy2fV9qI4fmJ3hafgbO5znmDM79zCdycBJECZzbqYY850mNQJ/AaYjPwamHtXh9hieBUxZxUtRJ4KSTU7ehqp/BczxQWQ7N8UAVjAeRF64aJoI1+BQgqoahIGUMBtL4ipIAUb9H6Pd7hF6SrxK6vRQYnB2eCr8JT2oQYnjeiDoJnjUu1Cz0UICmlyqDs95DBZUuiigS3WaLvTgtcvn5bwhT+1dkmP+IUhclSJweotJdhRdFEzRvwrPIXgEyFdrfR4EdgfQTOPNt7lyD8w6ybQTlWN0GKdf6Dp/kTEQOReRURI5FCTTDeW2GEKX/M6IM/4pIIxpLUeDFyvEiDSTa66IuzhPdWRFoTAhAgr0hLO78GWa3/gi7u3+Gv/YdxNLKLVstJNo8ZoDG2Ggj29ceRVG+SPR2hoeFPkxV7kH31pfQ+/lPML//F9g++gb+amSE8A3IEIEWUlNqNlrrK8TofClYC2r+UQ5QAmqIxp85bet/DU8Pte9AIrMCAqesa5agySMnyl/A5dGf4fboC+7O9dH4Gj7Kf2G7Pw+FPyBU70f4P/4WnspfwEv5a8Q+UWSP2a4Uf7TEeaI00A7pzoZIttdHlKkWPFQoMtZGuo0D0q2ckOYsRpbYE8kuLgi1tICvkRF8zZ7A38oM3tam8LA2RaCrIxLDAlGYkYbWumpMjwxxR+na0hImxmcwOjyJ6eFprE6vYk+6i625PYz3SdHcMIXcon7EZXcjOLULQWk9CM8aQGzeODJL5lBUvQpJ0x7qe9+htvc9GgZO0D5yiY7RK3RPXqFr4pxTtRRxLu5S1PkLFravsLhzhdX9D1jcOsOU9AXGZrYxMb2K2WkprySb7B1Af0sz2isrUJWfj8q8AtRKStHVQLs6ezHytB99re1orqxGS009elo70NnYhq6mdrTUN4OizaGeISxOLzEsCZ4ycMpStRSBbq/u/B04ZdHlTXDSPVmEKYMlnaSbgPxH1zJg0il7z+/OpsogqARnUyU4nZQImirA6VQBzibzcTqRh9PJXJxM5OBkIotFTjSsiQycTxBE03E6lobTsZRrJeF0LAknI4ms4+EE3NTJIM0mJuJ4MA5HA7Gs9/0xIL3ri8b73ijWCRkxDFBEF83i6FSW1qXULkWp/RGQzVXSSa8JyOSKxFEuRbo8RvIp+pUZFNCMpWzOUoiaZdHzdfqZUtAsGgm5KaHWS401N0V1QWqskjVcUYMNa5rGRKj7VcKiuuPlTDGupqm+TI04JSz5B5epMlyQZsqu/02KuJ5JECQYflgqxcflcnxYq8PH9Xp83KhlfVivwdVaNS5XK3CxUo7zlVKcLBbjaL4ApwuFOJvPx8lsLk5mcgTdcBU6HknH8VAG65TOgTSOQt/1JOCgKQg9MQYocbqFSpc7KHf4AaWibzGdoMeznBfkOVznjuM6N7wrv15eXeWIkwoHHJfbs97TOEqJHd5JbPFaLhu8KrZmCcurLfCiwALP881Z1HlLy6xl8580ckKdszR+wiMoaRR9GmM71RhbKUbYTJaB0wjrCYZYizdg0UiKlMAZo435KE15k9Bc5GPMhqtjJkwN06GqmApRxWSwCsavNRyoDNJQwKNrqWDQX5kt9Si67PFWxFOvh6xuTwUGpQBLijYfgoDJ0PRSBO3WJLV6KAg2e+L7n6VqqdbJsHRX5EizVqzEUWa9hypoMXSNhyoqaRk0RZH2Chw9klNQns19SByUUOakgioXNVQ6q6Lc/hFKbRVRInqIMjsl+Wu6R8/KHB6h1F4JJdaKrGKRAkgFFJGK7qHI5gEKre+j0PI+CizuI99SUJ71HeRa3UamxQ9IN/se8YbfI87gO0TrfYso3W8RbfgDp2wTrRSQKlJFir06st30UBlih+owB+R7mSFA7w6efPf/gVx2xCpfI85aFWmOmgg1ugs36npV+ZrTuwWB9qiO90OSuyWctRVgev9rWD38BmLNWwg2Frp0yWHIV/kL+Cj/ARFa3yLe6EfE6n3HESdFnRx5an7JPrpk9CA4Dn3NESKNq3hpfQN3DXID+gqOD76E04Ov4ar4A8SPfoKb0vfwUP0RropfsQ+tj+r38FL+Fl6K37HEd7+Cx4NvWIHqd5BurYdSb3vUBrujJToAPcmxqAvxR6GbM9yVHsJLVRm57o7IEjsg1s4EyS6WSHGxQ6KTLSJF5giyMIPdY1W4mRggLTQI0b6eCHR1QnxYCMry89DV2s47MicnFzA9t4y5xQ3MLO5jcfkZlteeYX5xG6PjS2hpH0GepBkxKVUITqhFUFIbApK7EJQ6iMicCSRLpMhv2EZV92vU9h6zGgbO0DR0geaRc1b7+Dm6Jy/QP3+F8eVfuEFoaed/YnX/F6zvf8TK9gkW1t6CIs3Z2XVMT0p5Hdl43wj6WzvRXF6Oitxc5CcnozgjHZUFRZyepd2Z4/0DGOzqRkdDIzrqyfy9C30d3ehuprnPTgw9HcDM+DSkc0tYXVpneBI4CaDUKLS6uMI1TuqylQFSFlXKUrIyMP76lAH05ikDowyKv3XK3iM7f3cxU4Hz6XKcT5fKRQA9myrG2fUoA8HzbCrvWjk4mxIcaciV5mKSBufJ1k2A59l4KgQlfwZOAuhNcJIJgAycvwXPo2t4HlPz0G+AU1YTlUeqN+BJ987JvP7aRlB+UhQsl+CUJIPl1RjNWabgajz1WkK0KJu3pDTr5xKao+QpbOpEpkaqiTxcTZAxQaGgaYJlMXepfpilrtdS0PkJnNfQnC7BFdUsp0oZmMK/STno3+d0ppR1MV+GD0tl+CgtZ2h+XK0UoPkfgPNsuYTBeUzQXCz6O3CeTmbiZIJmOTNA4OSa6lAG3vel4FVXPN72JOBNdxxedUZiqcgZrUHqyDb/CjmmX6A3RAM7hba4aA/EyyoXHBSLcFTripNaN5zWuOCIoFn5CZ5HZXZycL4psQOJumxJBM+XRVa4CU8C6G+BU4CnAM7ddIo+CZ4mn8Mz0QgbiUafgXM5XhdLsdpYiNZicFKHLYFzLkKD4UngnA5VY3hOhKgyPEeCVBiYA36K6Pd9iD6y2JOlY71vANNTAV0eQlqW/Gg7aJem+wNeSN3pdb2M+gY8m6/h2SBWkMOzzlUBDe6KaHB/hHoPkgqDs85DlaFZLVYFqcpNBZViNVaZsyoqCJau6qxqOumegzIDkiBJ17LXlY4qqHJS4fcwPG0UUWojAJbAWWh7H8Wi+wxOgmeRlQLDk8BZYEVNSXdB8MyhFK7lj0gy+QnUsRtn+AOPutBcKI2opNkoId1OFdku2sh1N0CRzxMUeJsi3VkXQQb32AJPrPINAvVvI95aFfHWygg2uM1znL5aPyPM9BFSXUyQF+iISHtDHkmxfvg9HFV/gp++AqIsyPxcDWG6P3IXbYjmt2wFGGf4I4/iROt8gxjtrxGp/SV3FZPZA3XZUjo3UONbBqefxncMTq/H34J+FpeHXzM43RS+h5sSAfM7vud8/wu4PvwL3AmgCgTLr+Fxn/QNfB79iCD1OzyLWeRugzIfB1QFuKIqwA0Fbg7Ic7FHoqU5UmyskGprg1QnETJpm4mjJZKdrRFrZ4lYOyt46mvCVU8bfpZmyAgNRmupBNV5OciOj0NRRgZaamsxOjiKmekFTE4uYXJmFQvSHUg33mBx9RBTs1vo6Z9CdV0nMvNqEJlQBP/IQgTG1SAwuQ3B6f2IyB5HnGQRaRVryOf07CGqn75HTc8R6vtPPwNn29ilHJxj0o+Y3fgb5ODcu8Ty1jGDc25hm8E5NbGEiaFJDD8dQHd9I2oKC1Gcns7gpLETijgpPTvW14/p4RE++9o70NvayTVPAmdvWycGu/sxOTTOHbXL81KsLK5hY2ULOxt7DM7NlQ2GJ503wSmLNP8jcN6E5c1rGQx/C5iye7L3yE4GJ/3n/PcAleB8WoLzKWEO8BM4/x6gssjzU9T5KfI8GU0GayQZJyPJOB5O+kxHQ4l4P5jAejcQj/d9cYKuo09ZxCk7ZTVFWeQpS/We9FP0KYieXQzHytPGVHf9JEonfxLXZ6/TzVcTBM3r9Op4Oi4mSBmf67oTlmqVrElqshF0OUkp1YLrCPNTdMlRJo2KUNcraa6Mf7enk0WglDjVlalmybVmygBMluF0upx1xuAsx9lcGS4XKzkF+3G5Ch9XKvFxtQof12s/04f1Ko42KdIkaJ5Ki3GyWIR/BM6TKcogZDI0CZw013synI5XPYk4aInEfnMY3j6NZ39cGkXpizNkcOZbfQ1pji3eN/lyI9ZukQibOWZ4X+OC8wYPnNe54ajCESdVjgI8yx1xXOaAo1J7hufbUnuQ3pSI/g6cAjwteWSFwPkJnmYg16CdTDI5IBMEE+ymP2HJwZlsgq1kE3YNWksi31oDdg+ikx2EYrU56hTgqYX5KC3MRWpiNlwDM2HqmA5Xx1SYGiZD1DERrIbRYFUI8BQizQF/MnJX5nQspWT7fB+h10eJRdFnt5egLm9FCHqELu9H6PR5JCyl9nqEdk8ltHgqodlDEY3uD8HwpLSsuyIaPZTQ5KmCRi8VNHiqcmNQrbsKqsTKAjTdVVHj+Rj1PtrgpdG+emj00eVdmfUeWrw/k+BJOzUJkFUESkcVyIBZ46KGWlcNfs6Rp0gJZSIleXQqsX3A4CSISmwUUGytwPAkgLJs7jFcOcVrc0e+XizZ5K88G5pkdgep1g+RaaeCbKfHKBDro9DDCNnOOhxVJopUEWZ8HyGGdxBpKoytxFs8QtQT2kBymxVieBfhpoqIsX6MOEcjhFppwVP/Idw078JD+w4CDBQQZvKAv55Swyy2BvwR0XrfI0b/e+HU/Q6ROl+z0UOY9rfcPESjKuRKRDOffo9/gLcmmSZ8z+laV6Vv4fLga7g9+A4ET1eFb+BGEa7i13BT/BLih1/Kwen98DsEq9xCuJYiMqwMIBHboNhDxBFndbAHCtztEW6gjXADXSRaWaAhIgw1YcFIsLVCrK0F4h2tEWljghALI4TbmMHriS6Cba2QEx6GvrpabM3OYGl0jNOZrTVN6GnvxdjIDENzdFyKkclVTM3vYmrxBQYnNtHcOYGC0hbEp0oQHJWDgKg8BMaWIyi5CaEZvYjIHUdCyRLSqjeQVbeNvIY9SFpeoLzrHSqfHqG2/wwNQ5doHL5A0/AZWkcv5OAcXfrABgjS7Y9Y2/sFa7sXkG4eYX7lFZYWdzE/u4HJ8UW28Rvo7EVHTR2qCwogyUiHJCODr9tq6jDc9ZTXgNEmE1o6PTEwCHL04dRtRzcGu3sxMypsWaFok8C5vLDKXbXUIMT1zjWqa27K5zr/ETBvgvGfXctgKIPkb52y98jOGxEnRZ1C5CmLOM8p6pykdK2QspXBk9K2p5PZLAGamTdStWk4GU3ldK0cmgTP3wRnMgicN+F51B8P1nX6liwBTwfj5JI1Fcms7giclMYlWMrASa8FcFJUKas9CicB9GJEpiScjyZxc5McoNeOPufjaRD0adMIbx2RecLKTmqeuhYDlOZiGZ7CeM/VNKVjixmWBEzS5QylxItwNJaPk4nia5XgeLKUdTJdBplOZ8rBmqvA+UIF1y2pfvlxuUKA5w1wflivxtVaFadoOdJcKsbxYqEcmucLQsR5ejNV+2twjmUyOGludL8tCruNITjqT+Zdns9bQzGYaMJLrjtDNLBVKsZpWyDe1HthX+KAPYkt3la78k5OijrPal058pSZHpzI4emAd2WC3pba/gN4Wv1TcBI89zKoccj0EzxTnjA4N1IEeJLlnkwET1m6llK2pIVoSt3egGeEhgDPUA2G51iIGgRpYDxUA+NhtCVFAyNkAB+kxltSaFPKYICwFaXfXxV9firo9RfU7aMMEoGT4XkDnATPJg9FNIgpyhTU6KGM5uuaZqOXGijaZHC6qcgjzWoPDdR6afJS6SZfPZCafXTR5K2DBk8BngRIXkjtpIpqEi2ndlYD3ScRVDkatVNGue0jTudSSrfETkGQ6CGneSU2igxPAiiBVGL7kJ/LaqXkjUtjKTQjSm5F6Zb3kWHzENkOKshzfoxCsS6KPY2Q6fAYKSI1JFopI8b0IUeYyTaqSLB8hASLR4g2vc/wJD9beh5lrowEkSZSnI2R6GyEeEcjUN0zwlyVG44IvuR1G2tyBzHGt+WWgGRCH6XzPSL1aL3Zj4jQFSJR9rdlS78feHyF3IdI5HFLp7fGj/B49D3cHnwD1/vfslzufQXX+1/BXfFruD74Aq53/wT3+3/haDNA6UdEadFMrBmqfJ1QF+LOKdpib3vEmukgRE8DidamyHJyQJG3F/LcxUhzckSsrTV3zsY7ieBloAV3fQ22z8sJ8UNLYS56a2sw2f0Ua1PzmOgdQW9bD3rbB9DbPYLenkn0Dcyhb0iKnqFldA1I0dA1D0ntEFILGhCVXIKg2DwExxYiIrUGsbmdiMrrR0zROBLKFpFau43s5mfIa36O3MZnKGx9CUnHGwZnVd8p6gcvGJyNw2doGT1H19QFBuauMLJ4ham1KxA413d/wdr2OZbW32Je+hLSpT0eRZkYm2NwDnX3o7epBS0VFaiXFKOezNprajDU2Y25kTG5GTttNKEdmrMjExjvG8JAVw+bFKzMSbG9sslzmysLywzONemGvNZJUebnErplZSnZfwbJ33oug+FvAVN2T/Ye2fm7y+ly3JSQKizFxbSERREnOdTQ4LxseF6IsMi5RjAIF8zBhXlEMhvnmUSC5w2djKTgpmh9FQ3800m2f6TjgUQc9SewjvvjQaLZUDJEZ8/XGyfVKElUu6RuVhLNhJLompqPCJJn9J7rOqb8HBWAeT6SgtNRQWdjqSD9Q2DKVnVdA1PWVcyNU9w8RQ1U1HmcDxrloWYeFs3HEjhnKEX7CZwnE4UMzqMJyWfAFCBZidO5SpzNV7HOF6pxvlCFi8VKXEorcLVciQ8rVayPa1VC5MknPSvDmbSEGagy9AAAIABJREFUYUl1zfdz+UJtc7EA5wsFnKo9m8sDwfN0OgeyVO3pmBB1UsqWIk6aI33VE4/XvQk8nkL7Ow+agzGVI0JvrAEm0s3xqimQl3xvFzngba0X1zqP6jxw1uCJ91WuOK9zx2mNG06rXXFS5YLjSmccVTjhfbmjoDJndhN6U0I1TxG7CZE5AumQ1o8VWOJZ3s10rRn2ssyxm2nG2iFgZlpgJ8Mc2+lmrK00U2ymPsFGiiDZQmyKPtm3NuGTb+0S1TxjdbAQo425SG3MRmhhOlILUxGamAx/jIkwDYyGCCJYkmhzCpvAB6uBtqYM0DqyADXIgNnjpwxBqujxU0WXrzKr01sZpDbvR2j1esQRJ4PT8xFHmQTOerHSZ81ABM56DwGeNe5qqBaro8r9WuLHqHbXRK2HNuo8dNDopctq8NRBrVgT1c7qqHRUZVU5ETQpClVHhZMqyhyUUUo1UE7jqqDCQYXvCfeVuPZJtVAWAdRGgfUJnIootldi5dko8GJrGmHJtCQTBQVkihSRbUfLq9UZngVuOsi0U0WKjQqSrZWRaKmEVDs1oQZqo4IUK7r3kJ/Re5KsVZBkq4F0Z33kuJsgU/wEaS5GSLbXQZy1OqJoPpTAaXQHkfq3EKbzE6dsZV661KQUQQ1LZEyv/wPINJ6aeIL1fmIbQLIAJGN4P23Bvs+PbPw0foankgBONwLm3S/hcucLuN37gqNM9wd/gafCl/BT/h5BarcQq/sQmeY6DM3aAFdU+DqhxMse2c6WCDfWRLiRDrJdHVEW4ItiP1/E2VghwsICCU6OSHBxQLSjCAGWZKFnivzIIDytkGBxoA/S4REsDE9BOrmIsb4J9HePo797Cj3d03jas4Cn/VJ09q2ivn0epfVjSC1+iqiMRvjHlsAvugiBCaUIS6lGZFYrovJ6EVM0ioSKRaTUbiG7+RD5HW+R3/YGeW2vUNT+GsUdb1DRc4LqgQvUDl6gYeQCDUOnaB45Y3AOzn/A8PwFJpcvIN36gA0aR9k6wdLya8wvPYdUKsxwEjhpITZBcLizGwNtrehtakRfSzPGe55iYWwC63MLbIvHdnjzC2y+TnZ4ZIU33NOPqeExbC1vYH9jl2uYVMukGifNcVJHLTcJbVA37E0JTT43gSiD22+dN98nu5a9TwbJ3zpl75Gdv7uaroBcU+VcZ6Na2xXX3Khh5TpykjW5TBEQCAwUWeULJuOTuSDzcZbMZYhdcdKu117R6iuykSMLOcFGjm3lyFLu2ieXPHLJH5ckGJsLq7RoByWJ13DJOlzJ7o22j5C5wg3LO7rmPZY8FkKm64ksOTBvNAIRNGlUhMBJ1wRNqmcSOIVTqGlSlEm1TfkpizSvT2oMImBy1/FoLi7G8rgxiOucE2SJJwOn0BTEdc4Z+mBShLPJIq5dns2U42y2DOezlbiYr8LlQjWPmVDHrLxrVlqHq6UqecRJUacQeV7XO5fL8VFahsulEpzNF+J4Lh/vZ3JxNJ2LUzJ6XyzExUIBLubycT5L5u65XKuWNXlRp7QMmmfD1CSUxvCkFWPkbPSmJwaH7eHYqfPFRIYVZnNs2PXpTYMP1gtscdREe09Dcdzoi/NmX7yvFuO0zh0ntWKc1ohxQvCsdBXgWe6Co3IXvL8G59tSqnUK4CQrvk/gtPoMnPvZFp+BUwCoAE4ZPAVwmn4GznVafp0kGL6vJBqAjN5JBE6GZ4we5qN0GJ4Ezk/w1JRHlxRV8p5NWi92o2v2Ke3s9KbuWUVuBuJ6pqciOq7F4PRRYWj+I3ByTVOs9Amc3urcRdvoqY4GL5IG6jw1WZSmrfHQYmhWiR+jyvUxqsWaqHHXQp27Fl9Xuaij3FFFAKOTKsOSgEn3SuyUUGTzEIWih5895/fTc0ehaYgahzgCpfddR5/UaEQRZ7G9IorsSErIFz0EwZOME8hJiMCZZfMQGTZKyBQ9QrrNI2TZqyJdpIwUK0UkWSkyINNs1UDKsn+MdJEa0mweIcNWBRn2GhydZjhoIsNZF8n22oi1Ukf4E0WEGD3gNG+E0T2e3QzT/ytCtH7gmiWlYCllG/fkLqJpbZnBzwzMcIOfQQolM3n9WwjUFwzj/XRvwVeHwPlXBGj9Fb7qP8Hz0bdwf/A1xPe+hOudP8Hl9h/hdvfP8HjwF/goUefuz4jRV0CqmQby7QxR7mqFUg9bFLpYIl1kjHgzHSRZG6PQ0xllgV7I8xIjw5VGTpyQ6+2NTE8PJLg4IcreDlHOjsiPCEVXeQGkg0+xRjssR0axPD6HxbFFzI0uY2pkBaP9yxjoXUZf3yr6h3fRM7SDujYpcsuHkVLQg6DkBvjH18AntgIBiTUIz2hGeFYbQjI74J/WiYjCccSVS5Fav4ec1tco6HyP/I53yGt7jcKOd5A8PRKgOXSJuuEr1I9coW7oBA3DJwzOoYWPGJo7xZT0lMG5uXeFtY0jLEkPsTj/jME5O72C8dFpTA5PYmpwFNRVS+MoU729mB8exsrkJDYXlrBD5uzkADQvbCyZH5/giHNudBKTQ6OYHZtkcO6t7zA42VpvZYuhybOca2ResC0H597mrrxbliAogxqdN+F3874MljdP2fObX/Pra9l7ZOfvrqbKwJosxRXr2kloshhXJPrPn1UgNL1Q4wsrH1c0Aziec0PZcsNysudji77r3ZFsVD5CDkOCBy6dF0PpvBmEtoOcDSTjtD+JDeZP+8jjVhDZ9l0O3NC1BywbDPQLXrK8FLpPMIkno3jZ/CXb/LFLUeK1o5HM2SiJnY5ovIRATuu6COy855KWQV93z/6j82Z3reD1S+u9MnExms1mAmRZyKLfD6VtZY1CdHKzEEGUTAiKcDlbisvZ8mvnn0pcLVZdw5LmMmvxcaUOH1fr8XG5Dh8oVUvpXnYHIqcgcgkqEbRIJxkdFOGMgDmVhfeTmTim7mcae1kswof5Qh6BuZrJxeW00OBFuzrl7kXsj0v/RukcZZKDkezDEGUD3vXE4lVHODYqPLBR5o73nVF42+SPwxpa9RaIs7ZgnDT746TJDycNPjip88RprSdOazxwUu2G4yralOKK9xWfRB24b0rt8Upii5fFItZhkY188fUBRZx5VtjPtcRejgVoo8peNi3AtmDtZFqCtJ1hga10Wmhtho1Uc5awzNoUa8nXSjLmvZ3L8ZSyFbQQp8/rxuZidDETpYPpKB1MRWpjMkILE+Ga8jVjg0Gq6A9QQW+AEFH+OhVLdUxSh7fSJ3k9QqefKjp8VVjtPiogtXkrC1GnhzLXM2XgbHCn2qaaAE0GpjrqvR6j3kuL07J1Xtog1XpqodpTC1UeWqgSa7Iq3R6jwkUdZc5qKHdWQxlFlgRLZzWUOqpAYv8IxXZKDEza10mrx+ie7H1lTmq8hkziqAyWgxB5Eigp8qSTRHs+6WtJeTYPkSsSlEPwtCbXIQVksF3ftdet+QMkWygglYBp8RBJFgoM0FRrJYYpRaJ0nWz5kO+n2agi3U4dGQRUey0kWKogwkQRwQZ3EKJ3G2EGdxFt8gDRJvcQY3SXV46F6P7Es5TkHkRmCBSJstm8Aa0su8X1VGo8okakQL1b8Nf7K3x0b7H8tW8xOH3Uf4CX4tfwePAl3O/9BW53/gjnv/4POP38b3C5/e/wffQNovQfIN3yMQodjVDpboFqTxEKXcyRKTJChq0xcpwskONigyIvFwZngY8Hkh1EiLaxRIqrC9LcxUgSuyEjIAAlCfHokBRjoqsNu3Mz2JqZxfzIBJbGlzA3toLJ4RWMD29gYnQXgwM76OndQkf3NqqbpMgpnURsVg/Ckjvgm9iMoLQOhOf0Iq54EAklw4gpHkZITh9803oQUjCFqLIVxFfvILXxEBktr5HZ9ArZLa9Q2HWE0r4z1I78grrRX1A/8gENox9QM3iK+qFjAZyLHzA4e4KJxWO229vau8Dq+ntIl55jcX4fy0vbIHBOjk5jangCM8PjmB0cwcLIMJu9b87NYXdpCXsrawxOMl5fnJjBzNAYxnsHMTkwgqXJWfaRnZ+YxuYSWedtcgMQ1TIpypQ1BnGdc22LHYMo6tzf2pODUwY0On8NPdlr2XtuQvMmcGXv+61T9rWy83eXo0X4O40U4nI0/4bycDn6K43k4pKVhcuRGxpOx+VQGi4HUwUNp+KSRPdu3h9MxyVpIAUX/cms874knPcl4qyXDMQFXfYnCuDsT8IliY3XycWHNqnE4eIpufsIhuzyez2C3R1BlFahkchsntek0aq0a7Fv7vU6L2HDy6cZTdms5t+fNM9J7xNO4QMAfQigv2eaoBH60JDF4g8WY+T3S8oRPmzIGoimaETlRiRKHbfUObtQiQ8MUDI2qMbHlRp8WKrkjlwBvJT6peajInyYI5FPLZ30/ahRiXxshdQrnbRz88O88FxutiBzKmK3okz+kMMfagbTcD6YhrOBVBz10VqzRFxNCu5GR71xOGwJYWDSSrm9Km8ctYawOf77lmC8a/LHuwY/vKvzZp/g00ZfnNR546TGA8fV7tfgdMNRpZscnv8ROJ/lWzM0P4HTiqFJ4JTpc3BaYjPN4j8A5xOsJhqBwCmTAE59zMXoYTZa91fg1MJ4BO3oFJZbj4RoYjhU0GDIY5D6AzVYfQHqIPUEqKHHX10uAmennxqrw1dVAKeXClo9BXEjkIcqCJpycHppoJH1GA3e2tz4cxOaNR7aAjQp8vTURqW7Jspc1SFxItMDFZTQOIqbxqf7jsoosFOSA4+iRHpdRCMpLmr8/hInNUhof6eTKoOzmEDL6VhKywoqtH3I34NgmS1S5Mgyx5Y8bwXRPQInGcTTlhU2iOfVZHeRRnC0UGCHH4Jkgtl9IQK1UODreFNaS0YbWR4iyUoZKTaU2lVFrJkSYkwVEf3kIaJMFBBlfJ/BGfNEAXFmilwPpZnRMIM7XLukVWR0TavLwozvIcToHoIN7yLI8A4CDe4iQP8WG82T2TzBM0DnNked3mrfX4PzC7jf/xPc7v4PON/6V7jc/j3c7vwBgeo/IMVCFUXOhqjytkZ9gD1qfUTIstNHjqMJqKO2Ksgd9ZH+qAj2QaabI+JsLBBm/gQh5iYIMDFGtIM9soICUZ+ZhaGGRvTW1mGkswOLZIxO8Bibx9TgIoZ6FzHSv4bRwR2MjT7D0NBztHdvo6RiDsk5g4hK7UFwYgf8YloRkPaUa5jpNQvIblpFRv0SEqvmEFE8gcDcUYQUziKiZAUxlZuIq9pFQs0+EmsPkNH4EgWdxygfuED9+N9QP/YLakc/fgbO7ulLDC99xNDsESYW3mN16wI7e5dYW3+LpYV9LMztYlm6yfObBM7pkUlu+lkaG8Pq1CQ252axJ5Xi2eoqg3NrkTaozDFcR3v6MdDRzc1BtMFkZXYBi1OzWFsgw3bBm5aiy72tA57hJHhy1HndGETgPNje/yzK/DU0yTbvJgRl0Pv/BZxbpQHYLgvETnkQ9qtC8bw2Ai/qInFYH4kXdXRNCsfz2jDsVQZhtyIQLxsi8b4tHm+aY/CuJZL1vjUKN3XUHgXSu9YI1klHLC6eJuKih1ZSJeGiNwWn3Yk47YzDcbvwfd40heN1UyheNgTjZW0gDmsCcNQchtO2SJy1R+GkNQJHzSGs9w1BeFsXgPcNgXhd44dX1b6sF1XeeFMfgJP2cBx3ROC4MwpHHZF40xaO161hrFctoThsCsGLxmAcNgTjRV0gXtQH4FVTMN62huFNS+hnet0cws/o+ZsW4T1vW0P4vW87wvC+XdBRRzj/ebI/k/5cEr/uisFxdyyOnsbiXVc03nZG4U1HJF51xfK4B419vOtNxlF/qtx8gAwIzkeycD5MEKbVY/QBJROn/Sl41x2PV+3R2G8I5vOYapGD9PVJeNkVjRf0vXti8aY3nkX3dpuCsdcYjBdtEXjTGc161x0rnJ0xeNMehbfX2q8LxFalL3brAvGsKZTN3fcbA7FX54+DugAc1Phit8ILL+r8+HdNv+/3TUE4KHfH8woxDivdGaBHtd54U+GGZ0X2eFXijIN8W+zmWONNmSueF9pjN9eCtZ9vhUOJHV6VOvD5otgWh8X22Mm2xHaWBTYzzFj0ej9PxNrOssRGugVWU0yxnWWNrUwrvl5NNsNKkinWUy2wlmKOpXhj1nLiEywlGGE+lqJMQbMxepiRA5OWWWuzCJjj4ToYCdPCaLj2tXQwFKaFwVAtDIRosnoDNDAQrIXBEG1Wf6g2BsP10B+qg54gTXQHaKDb/zE6r9Xhp4FPeoxmHw2OMOls8dHkmmaVqxI3AlGkSeCkrtkmP300+Rmi0d8Q9b76qPXWRbWHDio9tFHhroVysSbK3B6jxEWd4UdG7rl2BDLBkF3mP0vpVAIf7+tkACqw8TuZv98U+dqSaEaUnIQKbIV0LHnYUvOPrHO22E0LuQ6qDMtE07t8Uno2xfIhrx8Tdnre5RpntoM6R5mytC2flo+QZK6IWNMHDMUIw7ugVGyUyYNraD7kBqLYa0gSSAmikcYPEKp/h/d0BlE3rtE9TuOSzV+irSbb3dEGlgD9O/DXu40Aw3vw1r4FP/07cFL5BiIFMmD4Paz++nuYf/9fIVb6Cj6q38Lp9u/h+Nf/DlcG5r9BfP/fEal3B5kiDZS4P0FDsD1awp1RF2jLAC32MEeJlzVvO6kJ8UR5kAfyvV2R7mqPODsrBJgYwM9Qj2c0swL90ZpfgMH6Bgy3tGK8vRvD3b2Y6B3F1NAUJgbnMdq3yKnZnqcr6OxcRXPLCuoaV1BcNoPkzEFEpjxFdPoQ4nLHEZ83hfiyWVZC+RwSKuYRX7mImPJ5RFcsIKZiBZFla4iu2GBoJtU9Q1rja+S0H6Ow5wyS/ktUj3xkETzrxn5B3fAlWsYu0TX9AT0zF+ibPsHw3DGmlo6xuHyE7Z0z7O4cY2lhB3PTG1iRbmBhZgmzlGKemIN0cppTsysTE1ifmcbW/DyL6ptrs4u85osizMXxaSyMTfFr2pu5MreI9QWpPOIkH1pOy27uc8QpizrpvvwZ1zqFGic1B/0aiDejyX8EzZvvuQnZf3b9u5kkW8wm22E+1R5LGU5YyXbFep47NvI9BBV48rmeL8ZKrhuWc5yxWeiFvVJf7Eh8sVfiLdd+qQ9IB2W+OCjzZr2o9MPzCl+8qQvBaWs0ztpj+DxuicH7pii8rg3Gq5ogvKgK4K/bL/XCrsQDO8VibBe54VWVH97WBrLe1ATgVbUPXlZ54yX9p13miZelHnhe7Ib9YjfsFblip8gFB2XueF3nj7cNgXhZG4AX1X44qPbFXqU3/2e/U+6JrVIPbJa4Y7PIDesFLtgscsVemSeeV/niWaUPDiq8WfsVntgr97ghMejefoU739uvcMNBpZj1rModz6o88bzSk0+6Jh1UeuCg0gu7FZ6CKj2xe63tSm+Qdqp8sEs/Y40f9msDsVcbiIO6IDxrCMGz+mCG1WF9EIOezr1KH/75pYXOWC/15K+nr9uu9sFyiTtWSj2wUxuAlx1ReNYShq1qv0/3q/1x2EwfIiL4e9PXvagPwWFDCN60RLB2K3yxXOSG1RIPbJR7Y6PKC+vlHlgvdeff3YbEDauFzqCTfq/7VT78+1jOtcNuiSsOq7zwqtoTz8tc8azYCVs5NljPMMNKqgmWaUyElkynmGD1ehn1BrkB5ZiDALqXa4XdHEuG5mqKMVaSjbCcZMhfR1+zkW6GrUyCqTmWk0wYhmupZiBgEiQX44xYDMp4Y8xG6WEuWh8LsYZ8TkdqQy5OzVJ6VgcT4dcRZpg2RkO1WBRVjtDrCF3WcLg2g7MvSAO9geogcJL6Ah8zLEeiDDEabYShCH30BeugN0ib1ROsjadBWtfSQXegtqBgfXQF6qE7SB+dgdQZ+xjVrsqoclPjSLM1wBBtASZoDzZFZ6g52kPN0BpkikY/I9T7GKDCRxfVPnqo9jdg0esSD00UuqqhwEUV2Q5KyHNSRp6zCr8uclOHxP0xi65zHJWQ46DE78uxV0a2gzLopHu0QSXfURF5Dg9R4KSEbHtFfp7vook0e1Uki1SQZa+GPGdN5LtogZqAitz1kOOoIdQsRdT4o8hRJr0v10kbmQ7qyLTTQBrVM23VrxuEVLnbNt5CGdHmSqxYS2We70wUqXPKNslWje9TY1CMuQrXPIMN77NVX4iRAqLMVRBH4ysiLSQ76iPJSR+xIh2EmavAz+ABfA1om8ptlqPyt7BT/Armt/8dFj//K8NTrPwN/DV/ZFcggqXr3X+Fl+IfEan/M9JtVFHmbYrGMHu0RLqgKdwJNYEilHiaojLAFrUhzqgIdEG+hy0yXEVIcxEh0VGEaJEVIm2tkODqjJzgQDRmZ2GspRWzPQMY6+rDUFsPBrsHMdA1hN7OUfR2TKKnex7dXVK0tMyjpnYGxaXjKJCMIyt/FEmZg0jMHkV68RyyK1eRXb2BlKplJJYvIrZ0DtElc4gqnUNk6QKiKpYRW7WB2KotxNfsIKl+n1O1WW1vkd91hpKBK5QP/8LQpFQtgZPStPXD52gdv0L3zEf0zl4yOEdnjzC9+B6Ly++ws3uKvZ0jLM1vY256ncG5OCvFHMFwYgbSyUk5ONempvh6dWoGK9PzWL1eLE3LpQmiJIYm3Z9f4jVgW1LacCKsEOMmoP+s4JyMMsNUtDlmYi0xn2CDpWRbrKQ5YC3DSVCWM1bTHbGa5YjVTCcsZ9jzuZbtdH06YC3bAes5jqyNXCeQNvMEbeQ7Yy3XEbsSd7yqCcCb2mC8rArAYWUAXlT446DMC3slHtgtEmO7wBWbec7C98qyx1qmHV6UeuGwzBuvy70Ykocl7nghccfzYlccFDrjRaELDvIcsZfngN1ce2zn2GG30AnPyjzwvNwTe6Xu2C0RY7vYDZuFLljPd8JaniNWcu0hzbLFUoYNFtNtsJwlwlaBM/ZL3LEnEWOnyBW7EjfsFDlhp9AR2wUO2Mq3x2aeCBu5tljPscFqljVWs81YazkWkCtbuF7NNsd6rjXWcqxYK9lWYNG9fBE31azm24G0kmeL5VwRpDk2WMoWYZGUZYO5DCvMZ1hhLt0Sc6kWWMwQYTXHHqu5jnwuZoogzbbHUo4dFrJsMZVmidEEU0ykWWJV4ob9+gAcNASyKMJ+1RLOYHzVFMagfF4TiGfVATisC8br+hC8bQzD++YIHFRRJsIbm/Qho8ILGxWeDM21EjE2JGKsFjhjMdsOkykWGIwxQkfQY/RF6GIi