Permanently Stabilize your Foundation Walls:
With Spring weather in full swing, we can expect a variety of intense weather forecasts such as sun, wind and heavy rain. With this in mind, it is understood that the foundation walls of your home will under attack at all times. The given moisture within the soil that surrounds adds unwanted weighted and will cause the soil to expand where extra pressure will be put on the walls. The expansion will eventually cause cracking, bowing, and tipping of your foundation walls.
The solution:
We here at Ridgeback have plenty of solutions that will aid in stabilizing your damaged wall. One Permanent solution to stabilize your wall is our Carbon Armour & Armour Lock System. This system uses Fiber-reinforced polymers that are designed to be 10x stronger than steel, but flexible enough to be able to wrap tightly down the basement wall.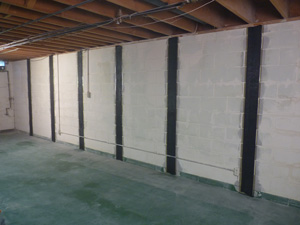 The Carbon Armour lock system is installed with brackets the bind and secure the strip to your floor joist making the entire system very non-evasive and quick to install to ensure total satisfaction during the process of installation. The Carbon Armour lock system is the perfect solution for quickly stabilizing your bowed and or leaning walls.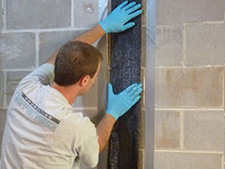 Advantages:
- Minimal disruption to the home
- No disturbance to lawn and landscaping
- Easily painted or concealed during basement finished project
- Fast installation and cure times
- High-strength epoxy permanently adheres to wall
- Enjoy peace of mind right away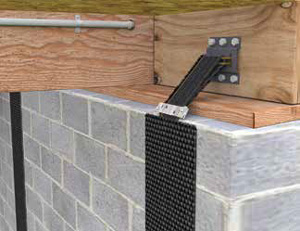 The Carbon Armour is a quick and affordable option to stabilize basement walls that have cracked and that are showing signs of bowing. Once our experts here at ridgeback basements evaluate and decide the appreciate number of straps needed, the production team will follow to install the super strong carbon fiber straps that get attached to the wall with epoxy. This method does not restore walls to original state; however, it will halt any further movement and cracks from appearing. The straps are easily covered once installation is complete by utilizing paint, mortar and light wall panels
Contact us today to schedule a free in-home inspection to see if the Carbon Armour Lock system is the right solution for your basement needs!